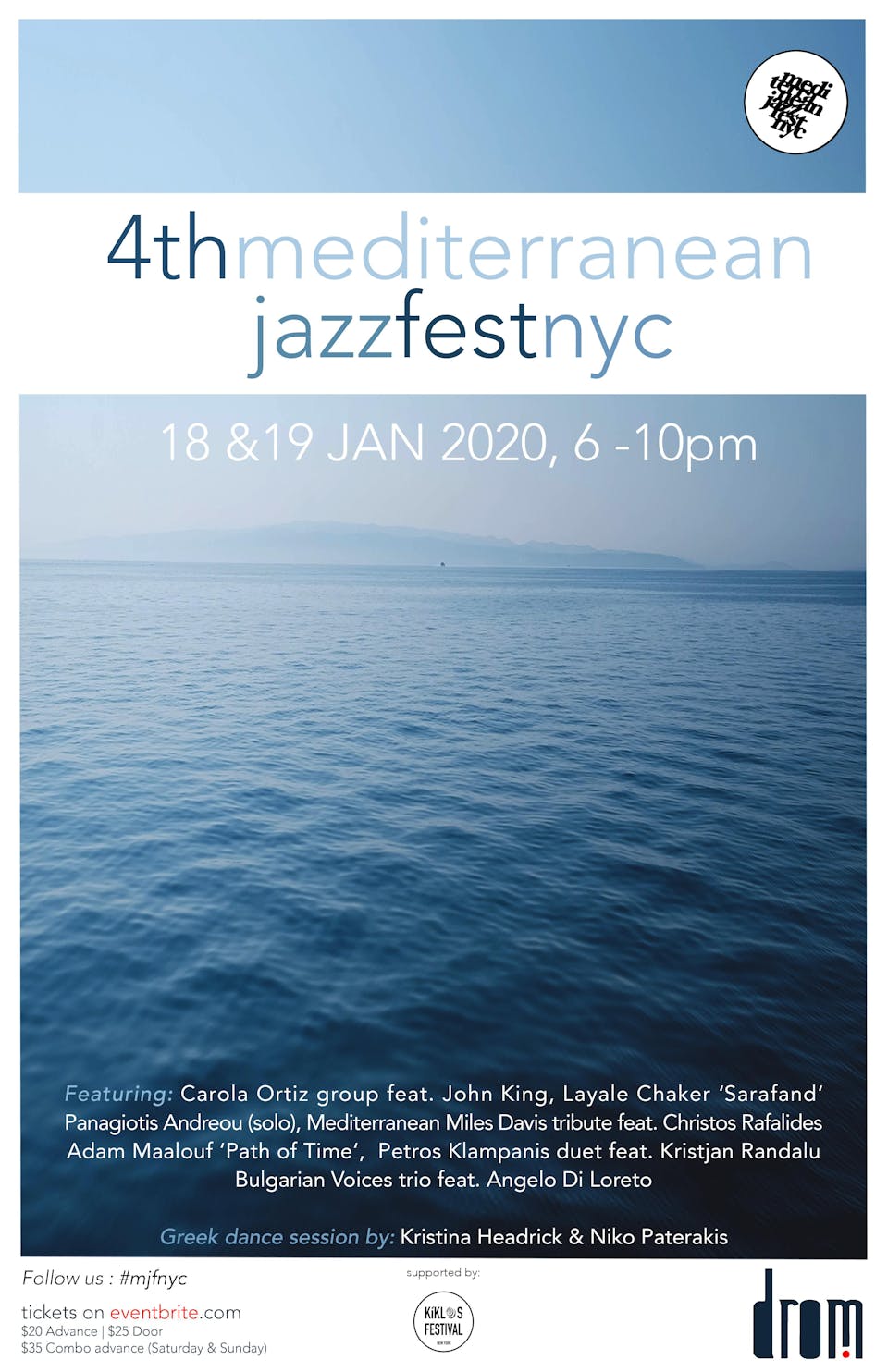 4th Mediterranean Jazz Festival (Saturday & Combo Tickets)
$20.00 - $60.00
Sales Ended
The Mediterranean Jazz Festival is back with its 4th edition, LIVE at Drom on two nights, Saturday and Sunday, January 18th and 19th!
Escape the cold New York winter, let our artists take you on a journey and discover contemporary sounds from Athens, Beirut or Barcelona. After an amazing night on January 13, 2019 where five bands performed for a packed Drom, the MJF is back with its 4th edition. The festival continues to highlight a Mediterranean perspective on jazz and for the first time the festival will take place on two nights.
Tickets
$20 Advance General Admission (Saturday or Sunday)
$25 Door General Admission (Saturday or Sunday)
$35 Combo General Admission (Saturday AND Sunday)
$60 Dinner & Show Special - Includes: Appetizer, Salad or Main Course, a Glass of Wine or Beer, and (1) Show Ticket. Seating is first come first served. Promotion only available through online ticket sales.
Multi-instrumentalist Adam Maalouf will kick off the festival with a solo set presenting new material and compositions from his last album Path of Time. Adam who was born in the US to Lebanese descent, combines influences form the Middle East (and beyond) with electronica and live looping. Adam is also considered one of the most innovative and masterful players of the pantam, aka hang or handpan, the "flying saucer" instrument invented in the year 2000.
Following, the Bulgarian Voices Trio will join forces with jazz pianist Angelo di Loreto for a very special one-time performance that was commissioned by MJFNY. Singers Vlada Tomova, Valentina Kvasova and Shelley Thomas, who have performed at Lincoln Center among other places, weave together traditional Bulgarian village styles with artfully arranged a cappella songs that reveal the disarming power and intimacy of the voice. Their reinterpretations of ancient songs tell timeless tales of sweet or forbidden love, horses and wild mountains, potent wine, the secrets of the moon, and the sun's falling in love with a beautiful girl and her song. Joyous, mysterious, mournful, exuberant, mesmerizing melodies; rich, unusual harmonies; and peculiar, odd rhythms come together to shimmer, intrigue, and delight the ear.
The first night will conclude with a performance by the Carola Ortiz Trio feat. John King. Ortiz is a free bird and one of the most dynamic musicians of the new generation of Catalan artists. Both a singer and a clarinet player, she is active not only on the jazz scene, but on the singer-songwriter and world music scenes as well. Her most ambitious work to date, Sirin, not only brings together Barcelona musicians from different fields – jazz, flamenco, Brazilian music, and Argentinian folklore – but underlines the historical mestizo character of Barcelona's popular music. She will perform with her regular trio featuring Sandrine Robilliard (cello) and Bartolomeo Barenghi (guitar). The group will invite composer/sound artist John King to premiere a few compositions from an upcoming collaboration.