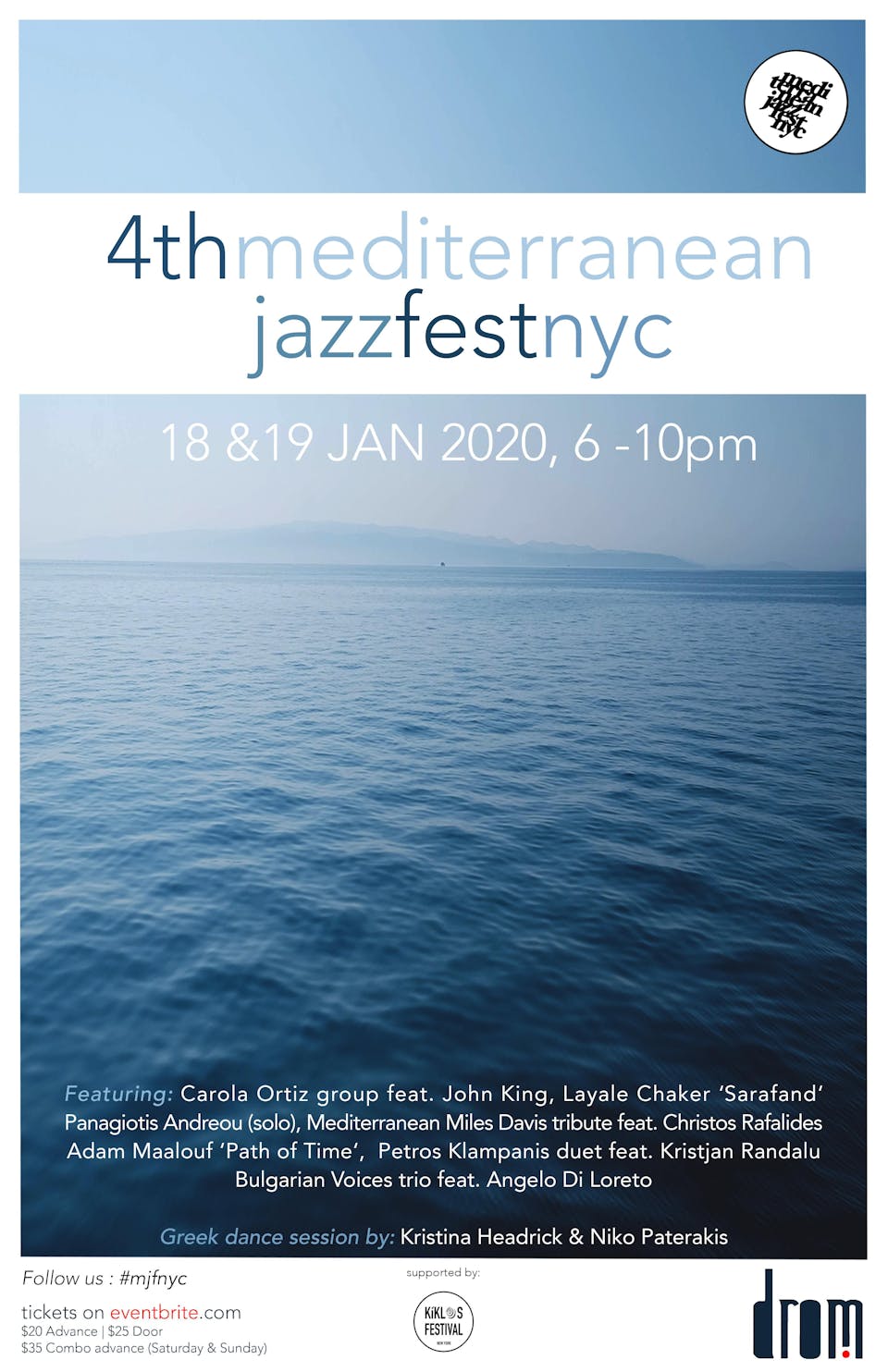 4th Mediterranean Jazz Festival (Sunday Tickets Only)
$20.00 - $60.00
Sales Ended
The Mediterranean Jazz Festival is back with its 4th edition, LIVE at Drom on two nights, Saturday and Sunday, January 18th and 19th!
Escape the cold New York winter, let our artists take you on a journey and discover contemporary sounds from Athens, Beirut or Barcelona. After an amazing night on January 13, 2019 where five bands performed for a packed Drom, the MJF is back with its 4th edition. The festival continues to highlight a Mediterranean perspective on jazz and for the first time the festival will take place on two nights.
Tickets
$20 Advance General Admission (Saturday or Sunday)
$25 Door General Admission (Saturday or Sunday)
$35 Combo General Admission (Saturday AND Sunday - CLICK HERE FOR TICKETS)
$60 Dinner & Show Special - Includes: Appetizer, Salad or Main Course, a Glass of Wine or Beer, and (1) Show Ticket. Seating is first come first served. Promotion only available through online ticket sales.
This evening will start with bassist-composer Petros Klampanis whom Downbeat magazine called "a musician who has always spoken from the heart" will present music from his latest release Irrationalities with pianist Kristjan Randalu, one of Europe's most prolific pianists who has worked with Dhafer Youssef, Nguyên Lê, and the London Symphony Orchestra to name a few. The two musicians will explore the sonic world of piano and bass to converse and challenge each other as well as invite vocalist Eleni Arapoglou to join them in this dialogue.
Next, Panagiotis Andreou who is without a doubt one of the most original voices on the electric bass today, will follow. He is known for his dynamic performances with groups such as 'Now vs Now', 'New York Gypsy All Stars' and 'La Clave Secreta'. Andreou will perform a solo set that will showcase his incredible vocal skills as he takes his listeners on a rollercoaster ride from the Balkans and Greece all the way to India.
After, Layale Chaker Sarafand who is deemed a "Rising Star" by BBC Music Magazine and raised on the verge of several musical streams since her childhood, will take the stage. Layale Chaker is a Lebanese violinist and composer and she will present her debut album "Inner Rhyme" which is woven as a suite that explores aesthetics of Arabic poetry. Composed between Beirut, Paris, and London, the album unveils musical threads that are mapped through the rhythmical cycles of the twelve classical Arabic poetic meters, the fluidity of oral and free forms, the abstraction of language into the physical contour of verses and the percussive potential of words. The music captures the shape and essence of epic testimonials on life, death, war, and love that make the heart of Arabic poetry. Feat. Jake Charkey (cello), Phillip Golub (piano), Nick Dunston (bass) and Adam Maalouf (percussion)
The evening and event will conclude with Mediterranean Miles, a tribute to Miles Davis with a Mediterranean perspective. Led by virtuoso vibraphonist Christos Rafalides, this performance will include many of the performers of this years' festival that will collectively pay homage to the legend by performing their original arrangements of Miles Davis compositions.