POSTPONED FROM MARCH 28th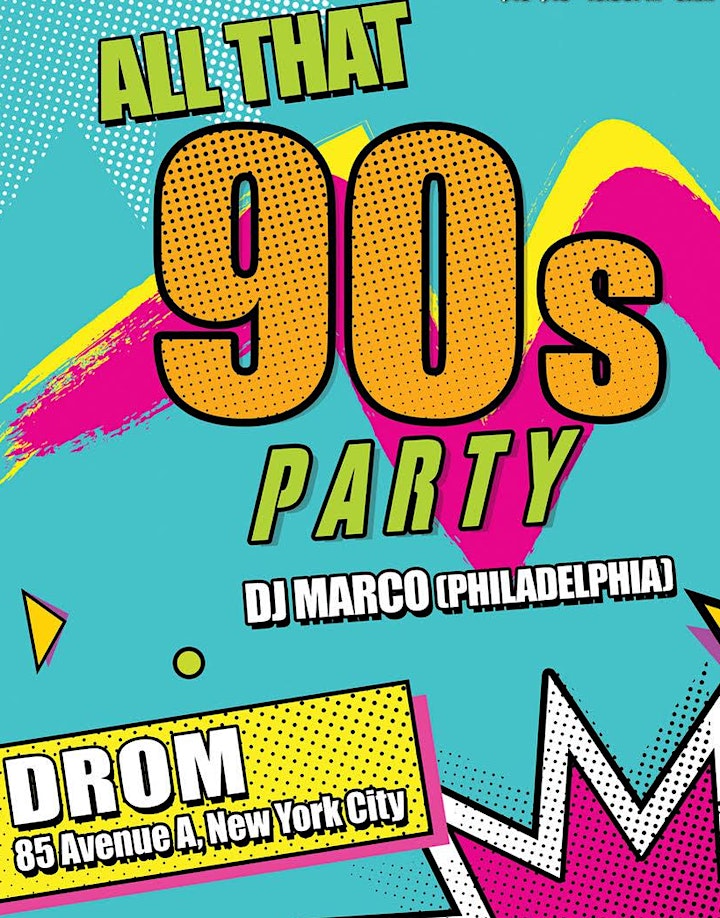 Join us Saturday, September 19th for DJ Marco (Philadelphia) breaking down the 90s and reconstructing the decade at Drom. R&B, Rap, New Jack Swing, House, Grunge, Alternative, Electronic and Pop music.
10:30pm-3am
$10 Advance, $15 Day of Event
21+
This is the type of music we like to play. You might hear songs from some of these artists & bands: TLC, Mariah Carey, No Doubt, Nirvana, Backstreet Boys, NSYNC, Spice Girls, DJ Jazzy Jeff & The Fresh Prince, Madonna, Janet Jackson, George Michael, Lenny Kravitz, Boyz II Men, Aaliyah, Paula Abdul, Hanson, Brandy, Monica, Red Hot Chili Peppers, Green Day, Pulp, Beck, Garbage, Alanis Morissette, Fiona Apple, Dr Dre, 2Pac, Snoop Dogg, The Notorious B.I.G., Puff Daddy, Jay-Z, Christina Aguilera, Britney Spears, BLACKstreet, C+C Music Factory, Black Box, Prince, Michael Jackson, Color Me Badd, En Vogue, The Fugees, A Tribe Called Quest, Naughty by Nature, Deee-Lite, Jamiroquai, Bell Biv DeVoe, Arrested Development, Vanilla Ice, Kris Kross, Cypress Hill, House of Pain, Beastie Boys, Digital Underground, Montell Jordan, Missy Elliott...
ABOUT DJ MARCO: Marco Rosario has hosted and thrown numerous 90s parties along the east coast. Aside from providing tons of energy into every event he does, his musical knowledge and background makes for an incredible and eclectic mix for All That 90s Party. From the crowd interactions to making musical memories for every party goer, DJ Marco looks to provide the soundtrack for your experience whenever the opportunity presents itself.
#DromIsHome From jazz and rock to electronic, soul & funk to hip-hop and international music DROM prides itself on presenting fresh new sounds and introducing new talent to the always invigorating NY live music nightlife. "New York's premiere venue for world music" (Wall Street Journal) is located at 85 Avenue A between 5th St. and 6th St. in the heart of East Village and has a wide and eclectic selection of music programming throughout the week. Drom also features a bar, kitchen and lounge area in addition to the main space making it easy to scale the room depending on your occasion. From seated shows to late night DJ events, there is a little something for everyone at Drom.
DROM | 85 Avenue A, New York, NY 10009 | 212- 777-1157
JOIN FRIENDS OF DROM for 10% off shows, food, beverages and more!