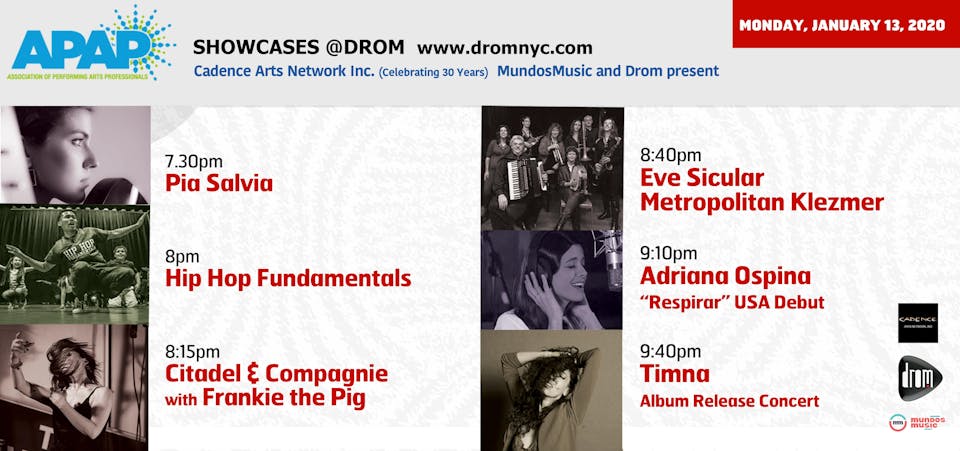 Cadence Arts Network, MundosMusic and Drom present
APAP Showcases @ DROM: Cadence Arts Network
Pia Salvia, Hip Hop Fundamentals, Citadel Compagnie, Frankie the Pig, Eve Sicular
Cadence Arts Network, MundosMusic and Drom present APAP Showcases @ Drom in the East Village, NYC!
APAP Showcases @ DROM
Cadence Arts Network Inc. celebrating 30 years, MundosMusic and Drom present
7:30pm Pia Salvia
8pm Hip Hop Fundamentals
8:15pm Citadel & Compagnie with Frankie the Pig
8:40 Eve Sicular and Metropolitan Klezmer
9:10pm Adriana Ospina, "Respirar" USA Debut
9:40pm Timna, Album Release Concert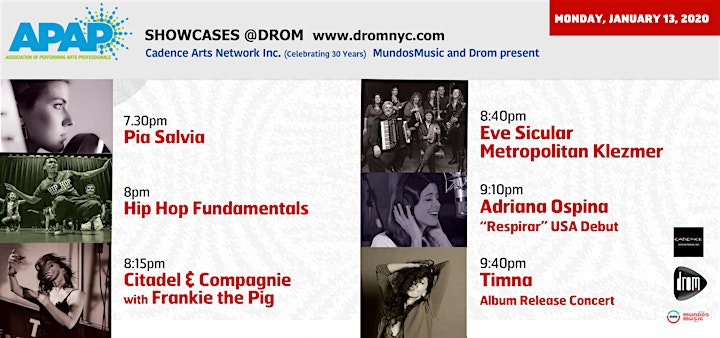 Pia Salvia
PIA SALVIA, a classically trained Belgian harpist and singer, is creating a true revolution in the modern harp world. Through the deft use of pedals and loopers, coupled with her powerful singing, Pia achieves amazing results that combine strength and subtlety. Pia's wide emotional range and arresting stage presence guarantee a memorable experience for anyone who sees her perform. Currently based in New York City, she has travelled the world, learning different musical traditions and infusing elements from those diverse genres into a recreated universe for playing the harp. This collage creates a unique sound, reflected in her own compositions in English and French. Pia Salvia's debut album will be released by MundosMusic later this year.
Hip Hop Fundamentals
Hip Hop Fundamentals is an award-winning company of diverse professional performers and instructors who use Breakdance to engage people of all ages, unlock each individual's creative potential, and create positive change in their communities. By sharing some of Hip Hop's rich cultural origin stories and how underserved inner-city youth changed the world, Hip Hop Fundamentals honors and teaches the four principles of Hip Hop: Peace, Love, Unity, and Having Fun through dynamic dance and calls for active audience participation. Inventive and innovative arts integration in education is a major focus, creating programming that utilizes Breakdance to teach young people a range of topics such as health and physics. Hip Hop Fundamentals is always looking to push the boundaries and potential of Hip Hop while also uplifting the core values and history of this exciting and now internationally influential culture.
Metropolitan Klezmer
Yiddish Roots, Exuberant Originals, Soundtrack Surprises and Hidden Gems - since 1994!
Hailed as "one of the finest American klezmer bands" by Songlines Magazine (UK), Metropolitan Klezmer performs an exhilarating range of musical treasure with astonishing agility and refreshing depth. Touring from coast to coast since 1994, the group's delicious approach is both authentic in sound and polished in performance, with a dazzling array of Yiddish-rooted repertoire by turns poignant and jubilant, swinging and powerful. Vibrant neo-traditional favorites, acclaimed original compositions, and nearly-forgotten re-grooved vintage gems reflect stylistic backgrounds from Albanian to Zydeco, bebop to baroque. Metropolitan Klezmer has released five acclaimed albums, heard from HBO to London's Covent Garden.
An octet in full, this collaborative NYC-based ensemble's panoramic instrumental array and multi-lingual vocals grace ethereal trance, rollicking dance, vibrant Second Avenue swing and Eastern European tango, klezmer cumbia, Soviet Yiddish theater and drinking songs, sly showtune revelations, evocative protest ballads, and even retro TV underscores. Awards: Creative Engagement, OUTMusic, Sparkplug Foundation. Recent full houses: Lincoln Center ("Music from Yiddish Cinema" multi-media concert), JAAMM Fest/Denver, The Emelin Theatre ("J.Edgar Klezmer"), "Refuge" (Blessed Unrest/Teatri Oda), and The Museum at Eldridge Street for the band's 25th anniversary Jubilation. "Not only exuberantly eclectic but also very danceable... Influences that range from old school Arabic music to Latin jazz to Motown… modern-day purveyors of time-honored traditions." -Flavorpill
Love me out of it ft. Frankie the Pig
Set to the iconic album "Frantic City" by Canadian punk band Teenage Head, Love me out of it explores Citadel + Cie's Artistic DirectorLaurence Lemieux's long relationship to dance through various characters that come to life with every song. Love me out of it premiered at The Citadel in Toronto in 2018 to great acclaim, including a live performance with Teenage Head.
Frankie The Pig is a Canadian rock band from Toronto that formed after the members responded to an ad on Kijiji in 2014. They started by covering songs from Green Day and blink-182 and have evolved into an original sounding Indie Punk band that is drawing a lot of attention within the Torontomusic scene. In December 2018, they released their first EP which includes songs such as Junk, Nicotine gum and Sneakers, all written by lead vocalist Finn Scott, with musical arrangements by drummer Jackson Seaward. Rounding out the sound are Charlie Sills on lead guitar and Michael O'Meara on bass guitar. They are leading a new wave of song-writing in Toronto that is crafted, catchy and could also be described as power pop. In 2019, they performed on tour as part of Citadel + Compagnie's Love me out of it show, playing a mixture of their original songs, as well as covers from iconic Canadian punk band Teenage Head.
Adriana Ospina
ADRIANA OSPINA is a singer songwriter from Colombia, currently based in Barcelona. Born into a musical and artistic family in Colombia, Adriana began singing at a very early age, and to this day she is engaged in musical collaborations with her siblings and her father. Her two older brothers, Juan Andrés and Nicolás Ospina, who are both YouTube viral sensations with tens of millions of streams. MundosMusic released Adriana Ospina's first solo album "Respirar" this November, and the title track and first single reached #3 in the charts of Colombia's Radio Nacional. The corresponding video has been streamed over 30,000 times on YouTube.
Timna
TIMNA is a multicultural, polyglot outstanding singer-songwriter based in New York City. Born in Israel but raised between Brazil, Argentina and Canada, having moved from country to country since a very early age, Timna's music has absorbed and reflects influences from all around the world in unique songs in the refined style that characterizes her music. Timna has performed at several of the most prestigious stages around the world and collaborated with many renowned international musicians. Her debut album, "I, Yo, Eu", produced by Brazilian star Jair Oliveira, begins distribution this month, and includes a special guest appearance by Juliana Mello.