Bohemian Betyars performs LIVE at Drom in the East Village, NYC!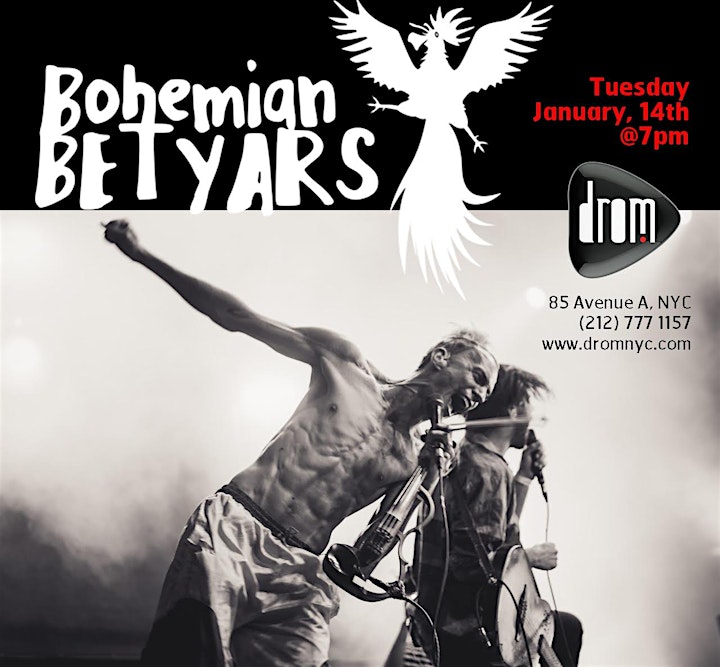 Bohemian Betyars
Formed in 2009, Bohemian Betyars is a fiddler band with a purpose to spread the feeling of bitter revelry (an oh so Hungarian specialty) the farthest possible. Self-described as speed-folk freak-punk, their music has evolved into a new, exciting mixture – including rocking punk bouncing ska, swooping psychedelia, melodic themes all spiced up with Hungarian, Balkanic and Gipsy elements.
From the Baltic Sea to the Atlantic Ocean, in the last couple of years this real power boost band made the audience dance about a thousand times. Be it on the street, at a club or a festival, the catchy tunes of Bohemian Betyars will yank you out of the mundane weekdays and throw you into the deep waters of delirium, just as it was planned to happen.
7pm Doors, 8pm Show
$10 in advance, $15 at door
$50 Dinner & Show Special - Includes: Appetizer, Salad or Main Course, a Glass of Wine or Beer, and (1) Show Ticket. Seating is first come first served. Promotion only available through online ticket sales.