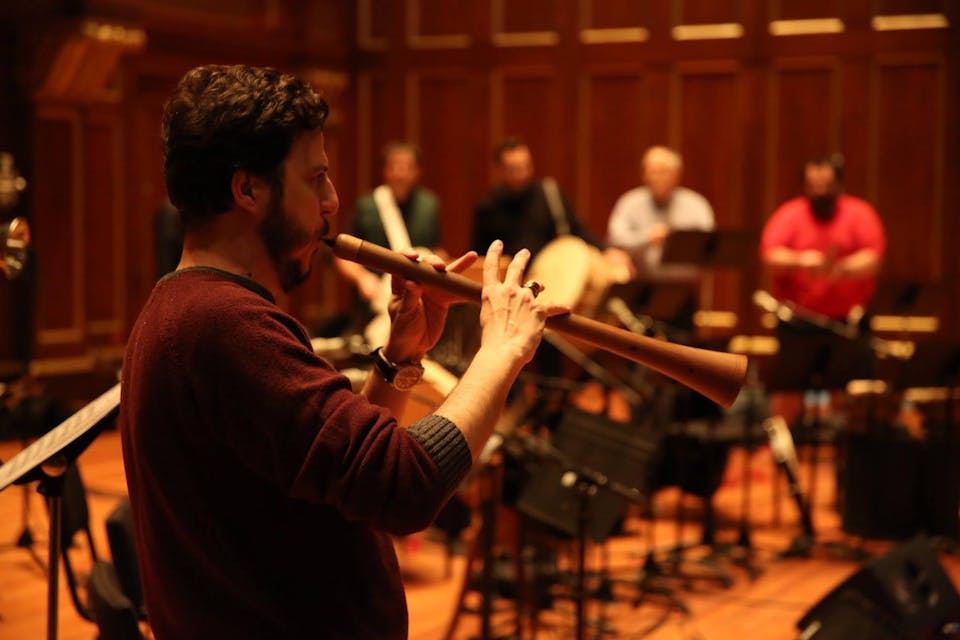 WMI presents: DÜNYA Directed by Mehmet Ali Sanlikol LIVE at Drom in the East Village, NYC!
DÜNYA Directed by Mehmet Ali Sanlikol
Presented by World Music Institute
Grammy Award-nominated composer and New England Conservatory faculty member Mehmet Ali Sanlıkol hails from Cyprus and Turkey and was DownBeat Magazine's September 2016 Editor's pick, and JAZZIZ's Top 10 Critics' Choice 2014. A jazz pianist, multi-instrumentalist, and singer, Sanlıkol has been praised by critics all over the world for his unique, pluralist, multicultural and energetic musical voice. The Boston Globe noted that Sanlıkol's "music is colorful, fanciful, full of rhythmic life, and full of feeling. multiculturalism is not touristy, but rather sophisticated, informed, internalized; Sanlıkol is a citizen of the world", "...and he (Sanlıkol) is another who could play a decisive role in music's future in the world." Sanlıkol has composed for, performed and toured with international stars and ensembles including Dave Liebman, Bob Brookmeyer, Anat Cohen, Esperanza Spalding, Billy Cobham, Antonio Sanchez, Gil Goldstein, Tiger Okoshi, The Boston Camerata, The Boston Cello Quartet, A Far Cry, American Composers Orchestra, Okay Temiz, Erkan Oğur and Brenna MacCrimmon.
DÜNYA (the Turkish, Arabic, Persian, Greek word for "world") is a musicians' collective based in Boston, Massachusetts. It's goal is to explore a cosmopolitan view of the world through the lens of a wide range of Turkish traditions, alone and in conversation with the music of the formerly Ottoman peoples—Greeks, Jews, Armenians, Arabs, Kurds, mystics—as well as with western and other world traditions.
Doors 6:30 PM | Show 7:30 PM
$25 Advance Standing Room
$35 Advance Seated Tickets
$35 At Door (Standing Room Only)
$75 Dinner & Show Special - Includes: Appetizer, Salad or Main Course, a Glass of Wine or Beer, and (1) Show Ticket. Seating is first come first served. Promotion only available through online ticket sales.
Tickets for any DROM show are non-refundable; they cannot be re-issued or re-used unless the show is canceled. This is our policy with the ticketing provider whom we partner with. Please do not call us for a refund or date exchange for any ticket.
#DromIsHome From jazz and rock to electronic, soul & funk to hip-hop and international music DROM prides itself on presenting fresh new sounds and introducing new talent to the always invigorating NY live music nightlife. "New York's premiere venue for world music" (Wall Street Journal) is located at 85 Avenue A between 5th St. and 6th St. in the heart of East Village and has a wide and eclectic selection of music programming throughout the week. Drom also features a bar, kitchen and lounge area in addition to the main space making it easy to scale the room depending on your occasion. From seated shows to late night DJ events, there is a little something for everyone at Drom.
DROM | 85 Avenue A, New York, NY 10009 | 212- 777-1157
JOIN FRIENDS OF DROM for 10% off shows, food, beverages and more!