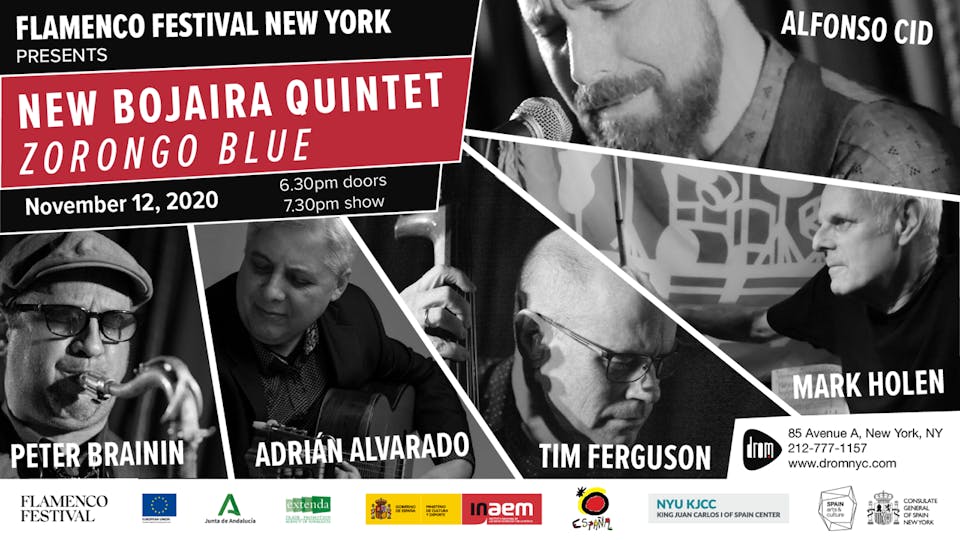 Livestream of New Bojaira Quartet: Zorongo Blue
$40 Dinner Special (tip not included) Cold or hot Mezze w/ glass of Beer or Wine
Please e-mail us at [email protected] for more info:
Our Seating is limited, with 25% of our capacity required by law: 45 People max
Free Livestream
New Bojaira:
November, 12 New Bojaira Quartet featuring Alfonso Cid, Tim Ferguson,
Mark Holen and Adrian Alvarado.
New Bojaira Quartet, plays an original and engaging fusion, blending jazz
improvisation with the excitement of flamenco rhythms, to create a powerful
combination of energy and subtlety on stage. Three of the original members
of New Bojaira, singer and flute player Alfonso Cid, double bassist Tim
Ferguson and drummer Mark Holen, join forces with guitarist Adrián Alvarado to
take audiences on a fascinating multi-cultural excursion.
Line up:
Alfonso Cid, Flamenco vocals and flute
Tim Ferguson, double bass
Mark Holen, drums
Adrián Alvarado, Flamenco guitar
Program:
El Diablo Llama a Mi Puerta (Soleá Blues) *
Jaleos del Celoso Extremeño (Jaleo)
La Africana (Guajira)
Green Room (Jazz)
Farruca de Argel (Farruca)
Round Midnight (Tango)
Zorongo Blu (Zorongo por Seguiriya)