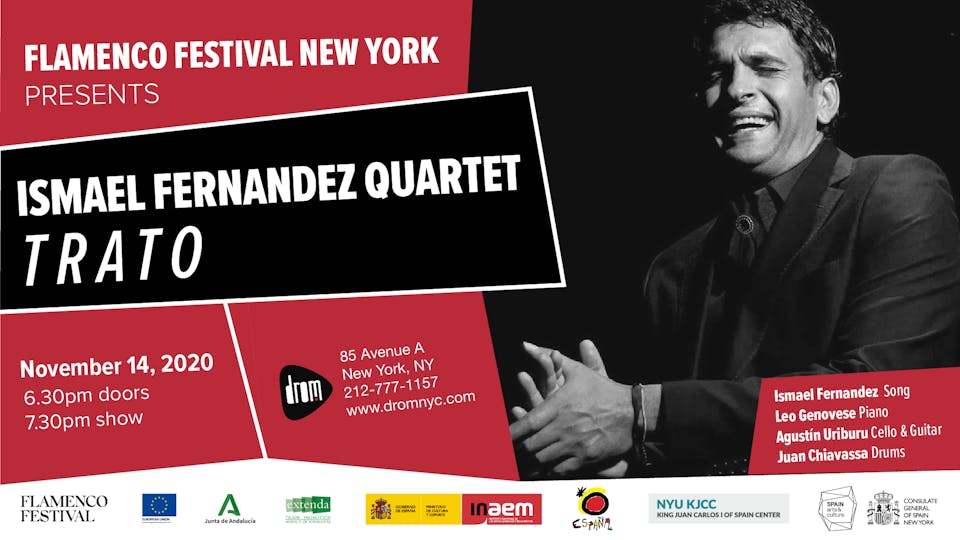 Livestream of Ismael Fernandez Trio: Trato
$40 Dinner Special (tip not included) Cold or hot Mezze w/ glass of Beer or Wine
Please e-mail us at [email protected] for more info:
Our Seating is limited, with 25% of our capacity required by law: 45 People max
FREE LIVESTREAM
Ismael Fernández is of Gypsy descent and was born in Seville, Spain. He grew
up performing in Flamenco festivals throughout the world with his internationally
renowned family, "La Familia Fernández". Fernandez and his partner, Flamenco
dancer Sonia Olla, have created numerous shows and worked with artists
across the globe, including Flamenco artists such as Antonio Canales and
Farruquito. Now, Fernández comes to Drom to present his album, Trato,
produced with Chano Dominguez. He promises his audience un trato (a deal):
intense emotion, soulful singing, and rhythm that plays in your heart long after
the show is over.
Line-up
Ismael Fernandez, song
2 musicians TBC