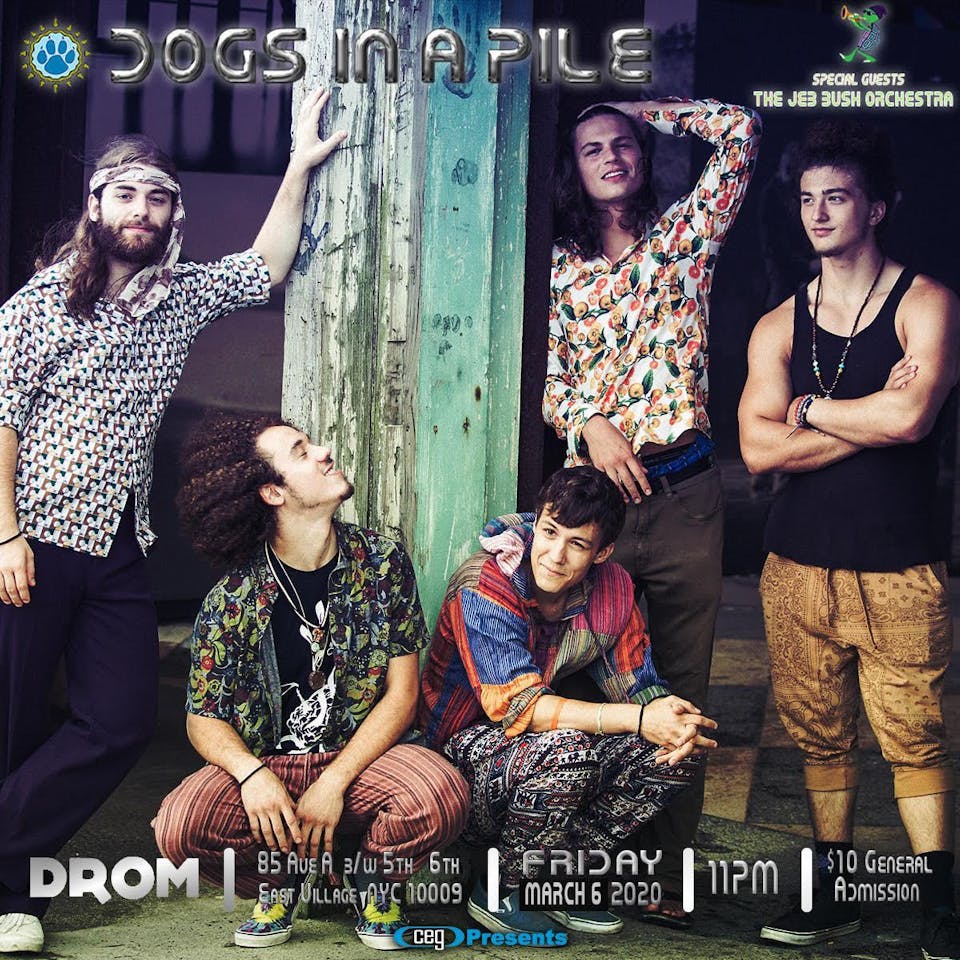 Dogs In A Pile
Jeb Bush Orchestra
$10.00 - $20.00
Tickets At The Door
On CEG Presents
Dogs In A Pile with Jeb Bush Orchestra perform LIVE at Drom in the East Village, NYC!
Sat, March 6, 2020
11pm Doors, 11:30pm Show
Tickets $10-20
Dogs in a Pile
Dogs in a Pile is reminiscent of a psychedelic journey thru space and time all while nestled in the eye of a perfect storm. Never knowing when the eye will shift, one may find him or herself in a sway of soulful bliss, lost in a sea of funk or in a fury of poetic chaos. Entwined within this synthesis lies the Dogs rapture, the undeniable intrinsic rhythm of give and take between band and audience.
Jeb Bush Orchestra
Jeb Bush Orchestra is an entirely apolitical, mostly instrumental funk band from Boston, MA. Forged in the basements of the Boston music scene, the Orchestra formed out of a desire to teach people music's one true purpose: making you dance.
#DromIsHome From jazz and rock to electronic, soul & funk to hip-hop and international music DROM prides itself on presenting fresh new sounds and introducing new talent to the always invigorating NY live music nightlife. "New York's premiere venue for world music" (Wall Street Journal) is located at 85 Avenue A between 5th St. and 6th St. in the heart of East Village and has a wide and eclectic selection of music programming throughout the week. Drom also features a bar, kitchen and lounge area in addition to the main space making it easy to scale the room depending on your occasion. From seated shows to late night DJ events, there is a little something for everyone at Drom.
DROM | 85 Avenue A, New York, NY 10009 | 212- 777-1157
JOIN FRIENDS OF DROM for 10% off shows, food, beverages and more!