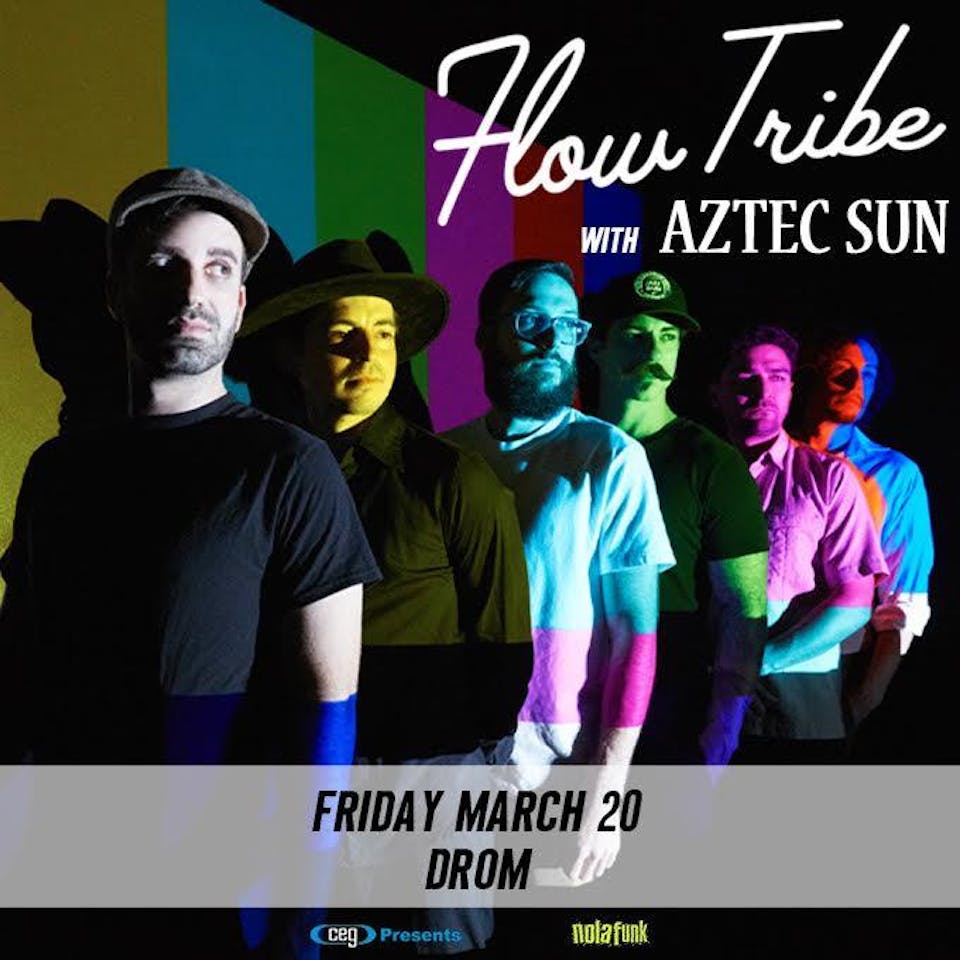 Flow Tribe
AZTEC SUN
$18.00 - $28.00
Postponed
On CEG & Nolafunk Presents
Flow Tribe performs with AZTEC SUN live at Drom in the East Village, NYC!
This event has been postponed. Refunds are available at point of purchase.
Flow Tribe
Few bands arouse a crowd into a collective shake like Flow Tribe. The six-member band's onstage chemistry reflects a seamless combination of soul and movement that hits the audience within the first few notes. Virgin listeners and avid fans alike are drawn in by the distinctive sound that feels both familiar and original. From major festival stages around the world to leading a parade down the street, this is a group of professional musicians who've found their passion, and are living a dream where everyone's welcome.
Second line brass and Cuban-Caribbean rhythms meld with R&B, soul, rock, and hip-hop beats in high-energy performances that turn every show into a celebration. New Orleans is influence itself, the unparalleled free and easy city weaving its way into track after track of original scores that make up a single definition of sound, which Flow Tribe has dubbed "backbone-cracking music."
AZTEC SUN
Since its inception in late 2012, Washington DC-based band AZTEC SUN has hypnotized the ears and feet of the District's live music aficionados. No matter the scale of the venue, this ensemble maintains an upbeat and retro groove steeped in 70's Funk and Soul, Jazz, Afro-funk and Motown-era pop.
Doors 7pm, Show 7:30pm
$18 General Admission, $28 VIP Seating