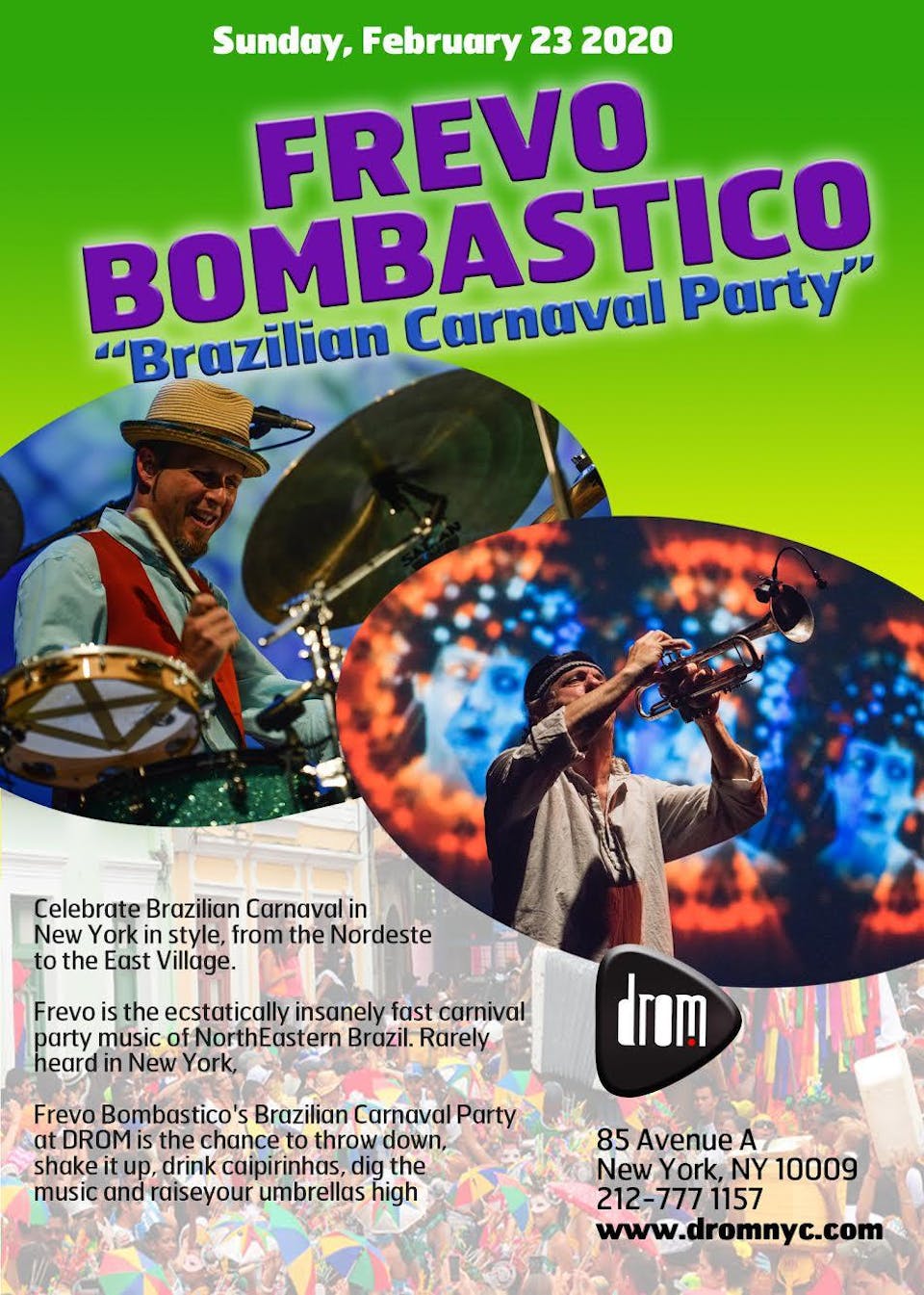 Frevo Bombastico: Brazilian Carnaval Party at DROM
Scott Kettner, Frank London
$15.00
Tickets At The Door
Rarely heard in New York, Frevo Bombastico's Brazilian Carnaval Party at DROM is the chance to throw down, shake it up, drink caipirinhas,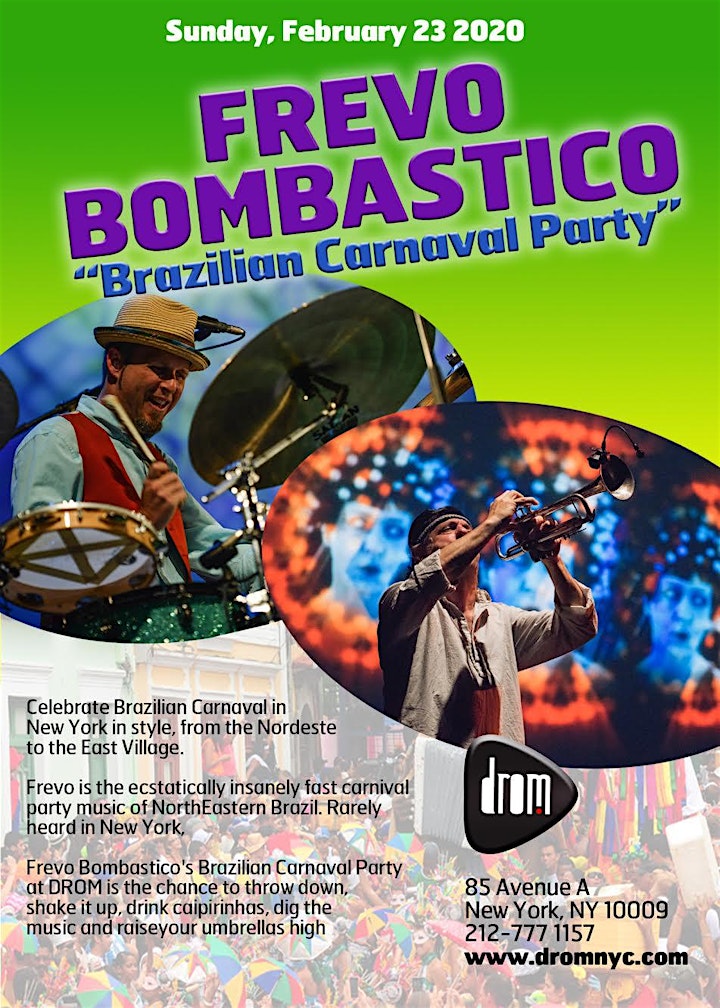 Celebrate Brazilian Carnaval in New York in style, from the Nordeste to the East Village. Frevo is the ecstatically insanely fast carnival party music of NorthEastern Brazil. Rarely heard in New York, Frevo Bombastico's Brazilian Carnaval Party at DROM is the chance to throw down, shake it up, drink caipirinhas, dig the music and raise your umbrellas high.
Led by drummer Scott Kettner and trumpeter Frank London, Frevo Bombastico is a super hot big band featuring NYC's finest & funnest musicians.
Scott Kettner is leader of Nation Beat, and the leading US teacher and exponent of Maracatú (NorthEastern Brazilian drumming). He received a prestigious NEA award for his project entitled "A Tale of Two Nations" which brought together his group Nation Beat and the traditional maracatu group from Recife, Brazil Estrela Brilhante. On the side, he has drummed with Willie Nelson, Cyro Baptista, Stanton Moore and Galactic, and many more.
Sir Frank London is a Grammy-award winning trumpeter-composer and co-founder of the Klezmatics. He has worked with John Zorn, Karen O, Itzhak Perlman, Pink Floyd, LL Cool J, Mel Tormé, Lester Bowie, LaMonte Young, They Might Be Giants, David Byrne, Jane Siberry, Ben Folds 5; is on over 400 CDs and was featured on Sex And The City. His Yiddish-Cuban opera Hatuey Memory of Fire premiered in Havana and at Montclair's Peak Performances. He composed the poetry/dance/video/music work Salomé: Woman of Valor (with Adeena Karasick); premiered the song cycle Ghetto Songs at Hamburg's Elbephilharmonie; co-created and music directed Carnegie Hall's From Shtetl to Stage; presented Weill in New York at Dessau's Kurt Weill Festival; and the created the spectacle In Dreams Begin Responsibilities for the New York Public Library.
The members of Frevo Bombastico are:
Trumpets: Islan Santos, Pam Fleming, Guido Gonzalez
Trombones: Brian Drye, Kalun Leung, Jonathan Peled
Saxes: Lily White, Oscar Feldman, Jay Rodriguez, José Carlos Cruzata Revé
Rhythm: Ron Caswell, Billy Newman
7pm Doors, 8pm Show
$15 Advance, $20 At Door
Tickets for any DROM show are non-refundable; they cannot be re-issued or re-used unless the show is canceled. This is our policy with the ticketing provider whom we partner with. Please do not call us for a refund or date exchange for any ticket.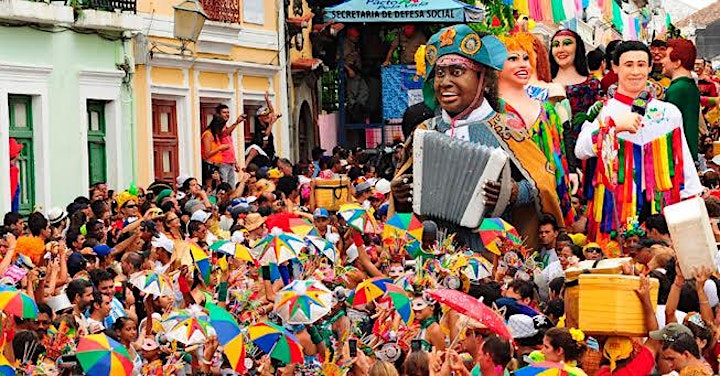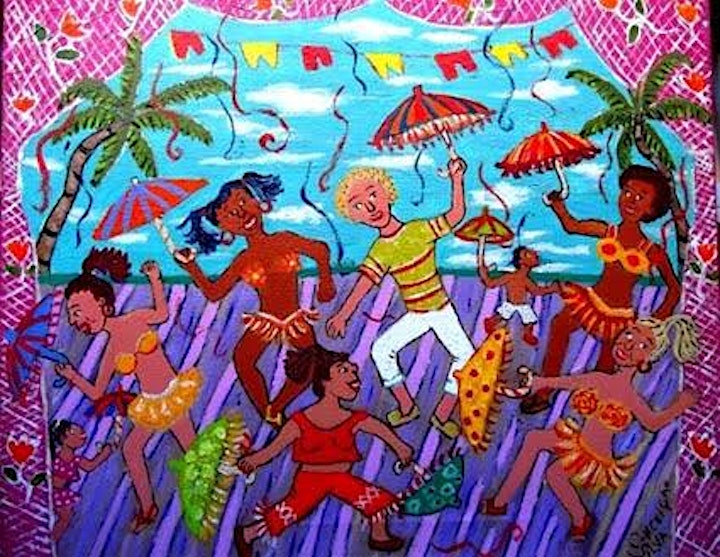 #DromIsHome From jazz and rock to electronic, soul & funk to hip-hop and international music DROM prides itself on presenting fresh new sounds and introducing new talent to the always invigorating NY live music nightlife. "New York's premiere venue for world music" (Wall Street Journal) is located at 85 Avenue A between 5th St. and 6th St. in the heart of East Village and has a wide and eclectic selection of music programming throughout the week. Drom also features a bar, kitchen and lounge area in addition to the main space making it easy to scale the room depending on your occasion. From seated shows to late night DJ events, there is a little something for everyone at Drom.
DROM | 85 Avenue A, New York, NY 10009 | 212- 777-1157
JOIN FRIENDS OF DROM for 10% off shows, food, beverages and more!