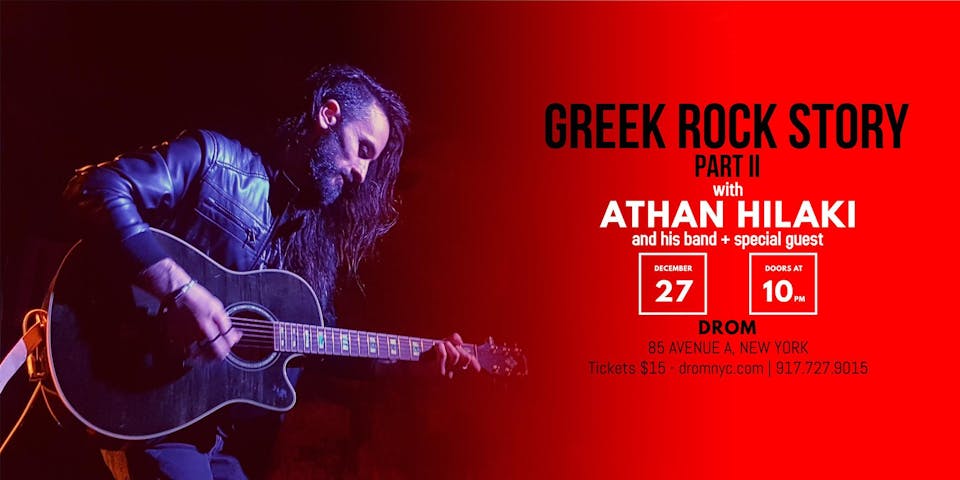 Stargher Art & DROM presents
Greek Rock Story Part II with Athan Hilaki
$15.00 - $20.00
Sales Ended
Athan Hilaki performs live at Drom in the East Village, NYC!
Stargher Art & DROM present Greek Rock Story part II.
Athan Hilaki and his band + special guests, present some of their favorite Greek rock tunes, from the early 70s to today! After a memorable night back in June 2019, part 2 is coming again at DROM. With songs from, Υπόγεια Ρεύματα, Σιδηρόπουλος, Τρύπες, Ξύλινα Σπαθιά, Πυξ Λαξ, Αφοί Κατσιμίχα, Παπακωνσταντίνου, Μαχαιρίτσας, Τουρνάς, Μπλε, Magic De Spell, Ενδελέχεια and more.
Athan Hilaki is a Singer, Songwriter, Multi-Instrumentalist (Guitar, Bass, Keyboards, Piano, Ukulele, Harmonica, Percussion). He was born in Athens, Greece and moved to New York in 2008. He is the founding member of the Alternative Rock / Indie Rock band, Trapped In Static (New York, 2011). He has performed live and recorded for various singer/songwriters as a guitarist, bassist and keyboardist. He is endorsed by GHS Strings, BASN Audio, Steve Clayton Custom and Lugville. More info at athanlive.com and social media @athanlive.
$15 Advance GA Standing Room, $20 Advance Seating
$20 Door GA Standing Room