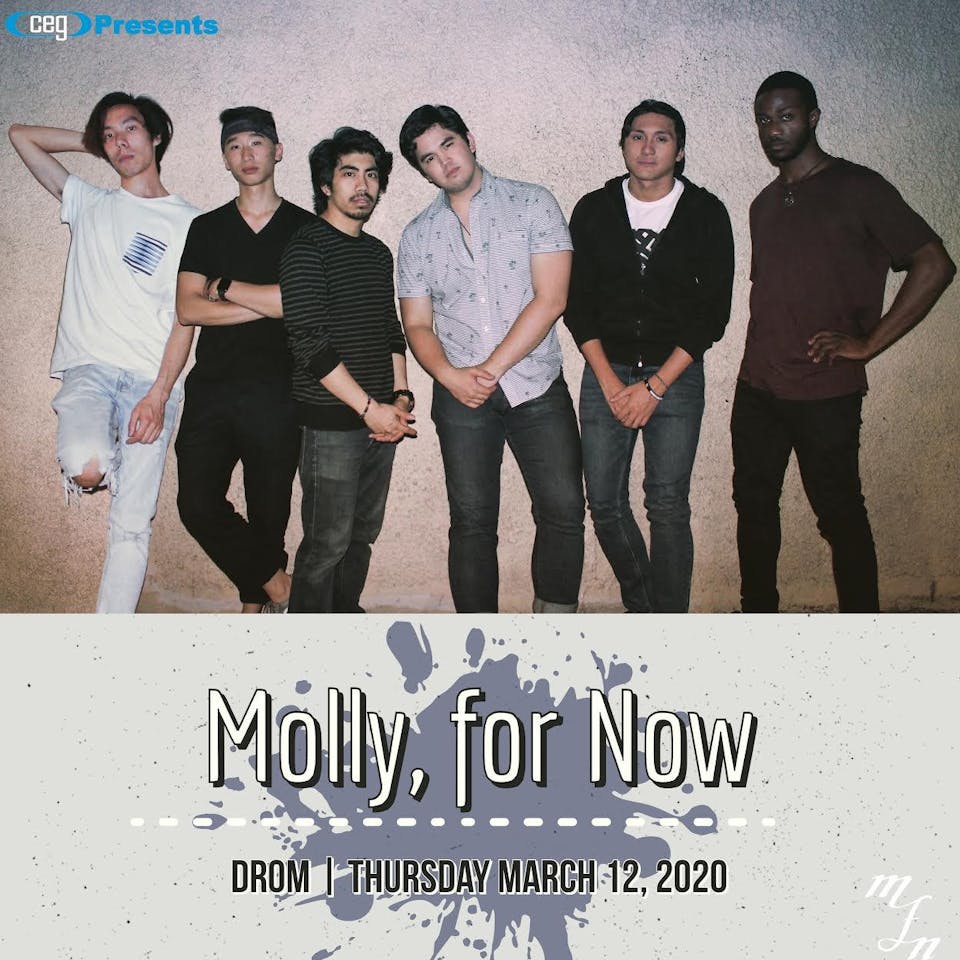 Molly, for Now performs LIVE at Drom in the East Village, NYC!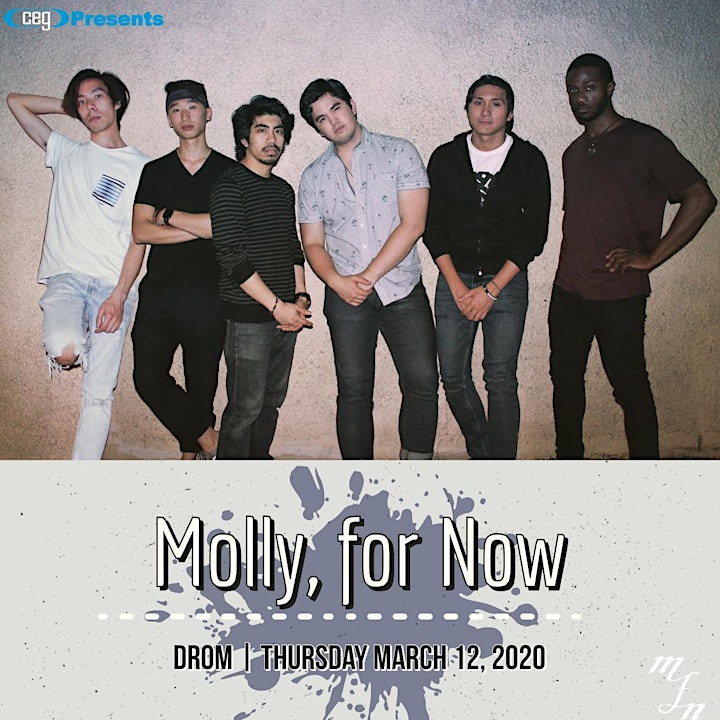 Thursday, March 12th, 2020
10:00pm Doors, 10:30pm Show
$10 Advance, $12 At Door
Molly, for Now is a band based out of New York City, composed of performers from different musical and cultural backgrounds. MfN puts a unique spin on their tracks by blending inspirations from r&b, rap, rock, pop, and beatbox. The six piece group formed in 2019; initially, multi-instrumentalist Dayrit (Zachary Swanner) and lyricist mtlano (Miguel Ladrillono) started as a duo. The two moved to New York together to pursue music with the goal to weave together genres to find something new from something familiar. From there, the two found guitarist Nicolas Kuo, beatboxer Doctor Brick (Michael Crisol), singer-songwriter/instrumentalist Wind Meets West (Tony Nguyen), and bassist Baseille Richardson via Asian Creative Network: New York City. In a short time, Molly, for Now has performed at locations in New York such as The Stonewall Inn, Bar Nine in Hell's Kitchen, Haswell Green's, Muchmore's, and now DROM NYC.
#DromIsHome From jazz and rock to electronic, soul & funk to hip-hop and international music DROM prides itself on presenting fresh new sounds and introducing new talent to the always invigorating NY live music nightlife. "New York's premiere venue for world music" (Wall Street Journal) is located at 85 Avenue A between 5th St. and 6th St. in the heart of East Village and has a wide and eclectic selection of music programming throughout the week. Drom also features a bar, kitchen and lounge area in addition to the main space making it easy to scale the room depending on your occasion. From seated shows to late night DJ events, there is a little something for everyone at Drom.
DROM | 85 Avenue A, New York, NY 10009 | 212- 777-1157
JOIN FRIENDS OF DROM for 10% off shows, food, beverages and more!