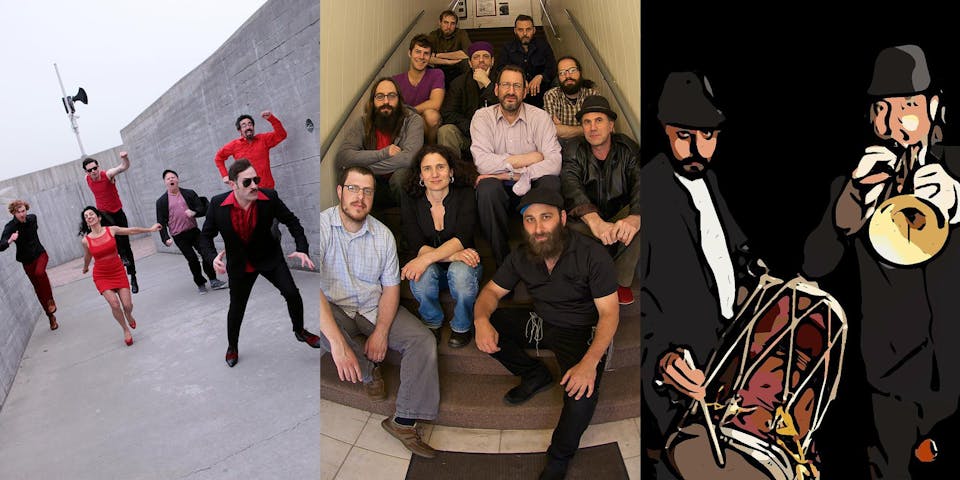 Pre-Hanukkah Smackdown with Golem, Zion80 and Sharabi
$20.00
Tickets At The Door
Pre-Hanukkah Smackdown with Golem, Zion80 and Sharabi! Live at Drom in East Village!
8pm - Sharabi
9pm - Zion80
10pm - Golem
Golem
Klezmer-rock band Golem was founded by Annette Ezekiel Kogan in New York City in 2000. Since then, the band (Annette Ezekiel Kogan, Aaron Diskin, Jeremy Brown, Curtis Hasselbring, Taylor Bergren-Chrisman, Tim Monaghan) has become a leading re-interpreter and innovator of Yiddish and Eastern European music, pushing tradition forward into the 21st century. Golem performs nationally across the United States and internationally, in clubs and festivals in France, Germany, Poland, Sweden and Mexico. After self-released album "Homesick Songs" (2004), Golem released two albums, "Fresh Off Boat" (2006) and "Citizen Boris" (2009) on independent Jewish label, Jdub Records. Their new release, "Tanz" (2014) on the prestigious Mexican label Corasón Digital and produced by Tony Maimone of Pere Ubu, marks a conscious move into new territory, with mainly original material. The album was released to great critical acclaim and was reviewed on the NPR program "Fresh Air." Golem's music has been featured in several films and documentaries from the U.S., Germany and Russia, and most recently the band performed on an episode in season 4 of the hit television show, "Louie." Golem is known for its virtuosic musicianship, theatricality, humor and fearless wild energy, combined with a boundless love of tradition. Golem is clearly "not your grandparents' klezmer." (NPR) Golem will be seen and heard in upcoming 2020 original series on Amazon and Netflix.
Zion80
Called "a truly soulful experience" by the New York Times and "A marvelous mashup" by the Village Voice, Zion80 explores Jewish music through the lens of the Afrobeat funk master Fela Anikulapo Kuti. Led by Jon Madof (Rashanim, Matisyahu), the 10-piece band arranges Jewish melodies using the polyrhythmic intensity of Afrobeat, blended with the madness of the Downtown scene. Madof's most ambitious project to date, Zion80 is blazing hot and tight as a drum. Spiritual, grooving and endlessly exciting, this is essential Jewish music for the 21st century.
Sharabi
SHARABI is New York's pre-eminent bhangra-funk party jam band, and the world's only Yiddish-Punjabi klezmer-bhangra fusion ensemble.
SHARABI is co-led by Grammy-award nominated master percussionist Deep Singh, who has worked with everyone from Sting to Malkit Singh, and wildly eclectic trumpeter Sir Frank London, who has played with Iggy Pop, Itzhak Perlman and everyone in between. Singh & London are joined by New York's finest and funkiest musicians. Guest singers often include Broadway-star Manu Narayan, Yiddish chanteuse Sarah Gordon, and Punjabi TV host Meetu Chilani.
SHARABI means intoxicated in Punjabi. Intoxicated by dance, by music, by love.