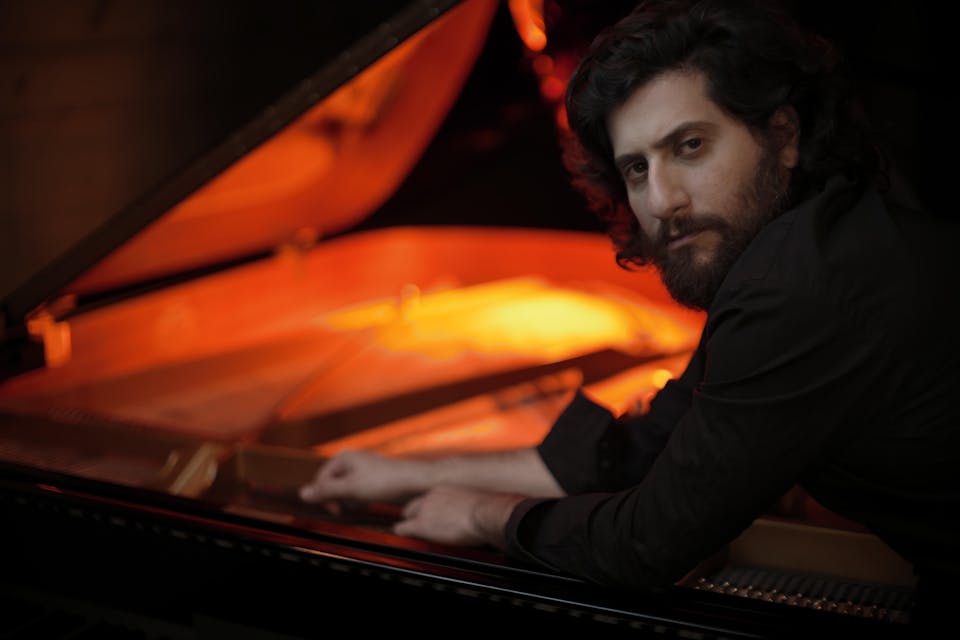 Rami Khalifé performs LIVE at Drom in the East Village, NYC!
Rami Khalifé was born in September 25, 1981 to musician Marcel Khalifé and vocalist Yolla Khalifé amid the rough and tumble of civil war in Beirut, Lebanon. While best known for his re-envisioning of the classics, Rami Khalife, who graduated from the prestigious Juilliard school of New York, was featured as a soloist alongside some of the world's most prized orchestras including Globalis Orchestra, Qatar Philharmonic Orchestra and Liverpool Philharmonic Orchestra.

Rami Khalifé has extensively toured in the U.S, South America, Asia, Canada, Europe, Australia, in such venues as the Kennedy Center (Washington, USA), the Sydney Opera House (Sydney, Australia), the Opera House (Doha, Qatar), Place Des Arts (Montreal, Canada), Dar el Opera (Damascus, Syria), Queen Elizabeth Hall (London), Salle Pleyel (Paris, France) and UNESCO Palace (Beirut, Lebanon).


Rami Khalifé's work is as eclectic as it is bold, ranging from improvised concerts, recording a Prokofiev concerto to performing with Marcel Khalifé. He also composed contemporary works for orchestra, producing sound tracks for film and documentary, only to switch it all up with his classic electro group AUFGANG.
His body of work includes two piano concertos, a requiem, a cello concerto and several orchestral pieces including "Tunnel to the Moon", all of which, he premiered with the Qatar Philharmonic Orchestra. He was also commissioned by the Philadelphia chamber orchestra to write his new piece ''Stories'' to be performed at the end of the year. In 2016, Rami Khalife simultaneously released 2 new albums ''Turbulences'' with AUFGANG and "Stories" with QPO Orchestra.
Heralded as a "musician of extreme caliber and pure expression…a welcome experimental detour from the norm of today and in the relatively conformist world of classical composition…he is positively brand new" by the Daily Star, it's no wonder that Rami Khalifé has emerged as one of the most exciting young composers of the 21st Century.
7pm Doors, 7:45pm Show
$15 Advance, $20 At Door
$55 Dinner & Show Special - Includes: Appetizer, Salad or Main Course, a Glass of Wine or Beer, and (1) Show Ticket. Seating is first come first served. Promotion only available through online ticket sales.
#DromIsHome From jazz and rock to electronic, soul & funk to hip-hop and international music DROM prides itself on presenting fresh new sounds and introducing new talent to the always invigorating NY live music nightlife. "New York's premiere venue for world music" (Wall Street Journal) is located at 85 Avenue A between 5th St. and 6th St. in the heart of East Village and has a wide and eclectic selection of music programming throughout the week. Drom also features a bar, kitchen and lounge area in addition to the main space making it easy to scale the room depending on your occasion. From seated shows to late night DJ events, there is a little something for everyone at Drom.
DROM | 85 Avenue A, New York, NY 10009 | 212- 777-1157
JOIN FRIENDS OF DROM for 10% off shows, food, beverages and more!