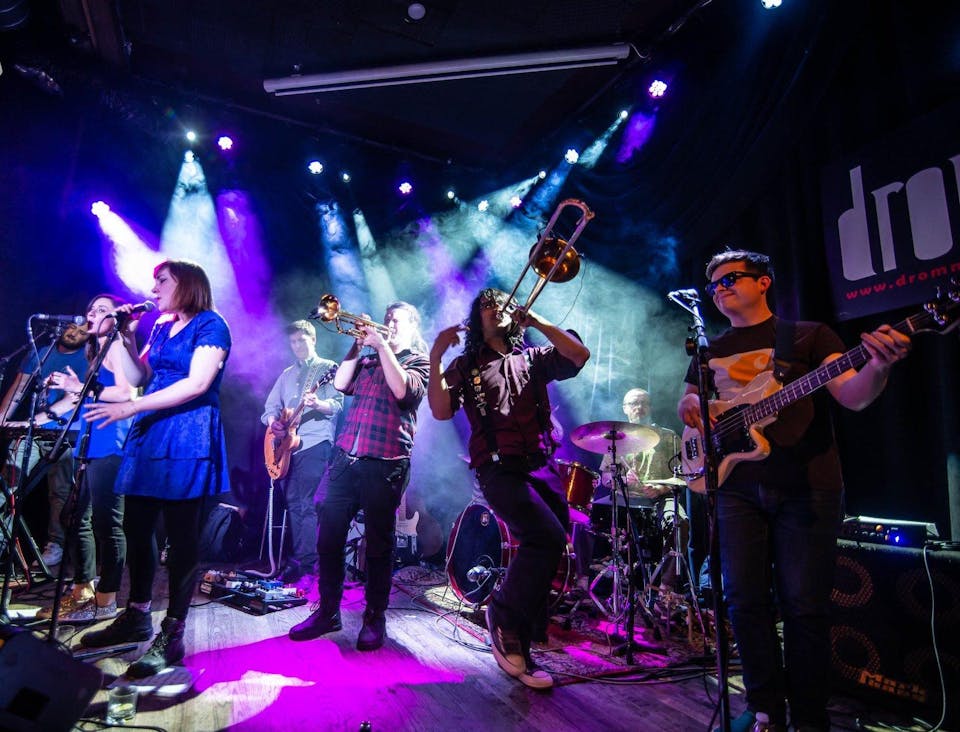 Root Shock
Cosmonaut Radio
Mojo and The Mayhem
Root Shock, Cosmonaut Radio, and Mojo and the Mayhem perform LIVE at Drom in the East Village, NYC!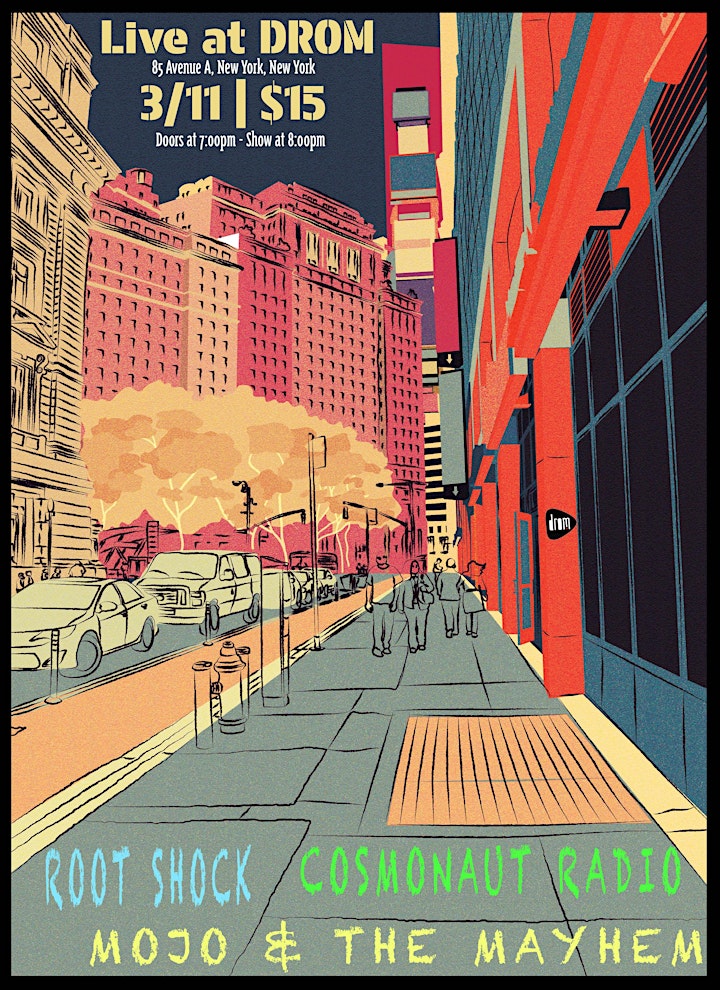 7PM Doors, 8PM Show
$15 Advance and At Door
$55 Dinner & Show Special - Includes: Appetizer, Salad or Main Course, a Glass of Wine or Beer, and (1) Show Ticket. Seating is first come first served. Promotion only available through online ticket sales.
Root Shock
Conscious, soulful, uplifting, even healing—that's how many fans of Root Shock have described the band's infectious sound and energy. With a reputation like that, it's unsurprising that this group is indebted to reggae, a class of music forever married to love, humanity, social change, and an almost tangible sense of sunlight. But Root Shock didn't form on a beach. Instead, they came up in snowy Syracuse, New York in 2012, and since then, they've developed a voice that transcends genre.
Spearheaded by the acrobatic, powerhouse vocals of Jessica Brown, the Root Shock sound is at once commanding and cathartic, but never at the expense of a velvety, carefully placed jazz or neo-soul lick. When he isn't complementing Brown's pipes with his own earthy vocal turns, Phil Grajko gets weird on the guitar, seamlessly moving from chop chords to girthy riffs and spellbinding solos colored by Latin, prog, and psychedelic rock textures—often in tandem with mad keyboard genius Brian Lauri. Rounding out the band, bassist Bill Eppel and drummer Tyre Outerbridge make for a formidable rhythm section fluent in patterns ranging from dancehall to ska to heavy dub style and funk.
In 2016, Root Shock released a self-titled album, produced by Jason "Jocko" Randall at More Sound Studio, and followed that up with the "Many Paths" EP in 2018 & the Waves single in 2019. These recordings are proof of the band's democratic songwriting process, with thoughtful lyrics from Brown and Grajko that invoke hope in dark times, warn against injustice, and imagine a future in which all are free and equal and united by music.
Today, Root Shock is bringing their renowned live show to clubs, festivals, and concert halls across the Northeast and beyond, delighting audiences from all walks of life with a positive message and danceable tunes.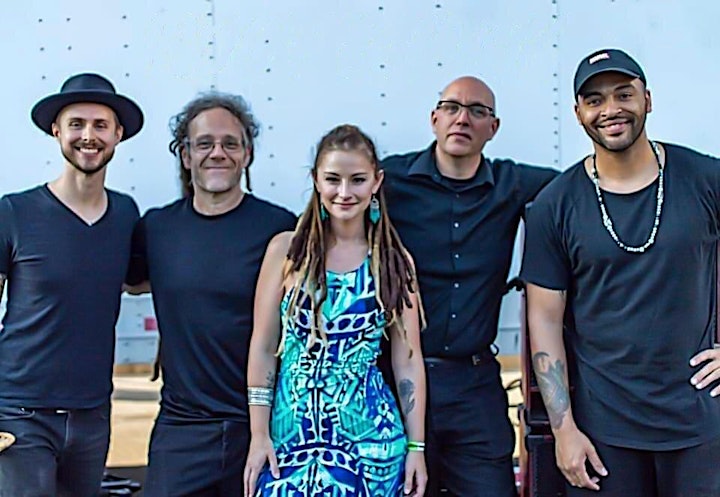 Cosmonaut Radio
By focusing on an upbeat blend of funk, modern rock, and old school R&B, Cosmonaut Radio creates a sound that is fresh, familiar, and inventive, weaving a tight melodic groove with subtle rhythmic complexities.
Mojo and The Mayhem
Mojo and The Mayhem is a groove machine from NYC, filled to the brim with hard hitting horns and vocal harmony. Drawing inspiration from the very best of soul, R&B, funk, and groovy rock, M+TM creates an original rollicking sound to get the people letting loose.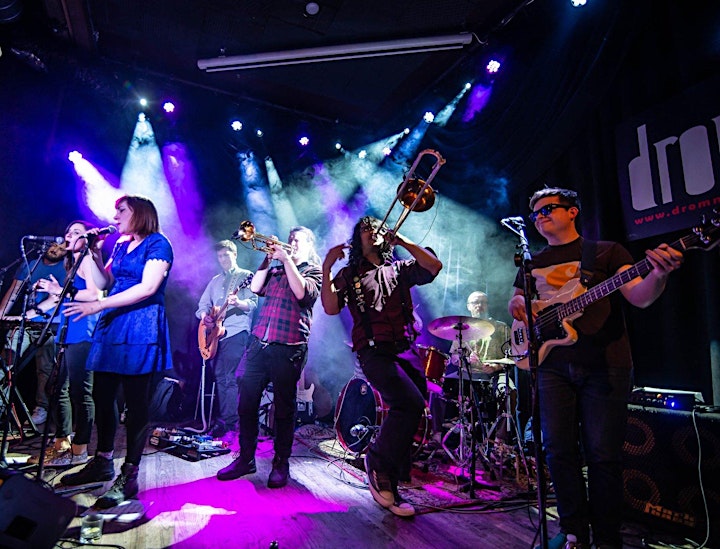 #DromIsHome From jazz and rock to electronic, soul & funk to hip-hop and international music DROM prides itself on presenting fresh new sounds and introducing new talent to the always invigorating NY live music nightlife. "New York's premiere venue for world music" (Wall Street Journal) is located at 85 Avenue A between 5th St. and 6th St. in the heart of East Village and has a wide and eclectic selection of music programming throughout the week. Drom also features a bar, kitchen and lounge area in addition to the main space making it easy to scale the room depending on your occasion. From seated shows to late night DJ events, there is a little something for everyone at Drom.
DROM | 85 Avenue A, New York, NY 10009 | 212- 777-1157
JOIN FRIENDS OF DROM for 10% off shows, food, beverages and more!