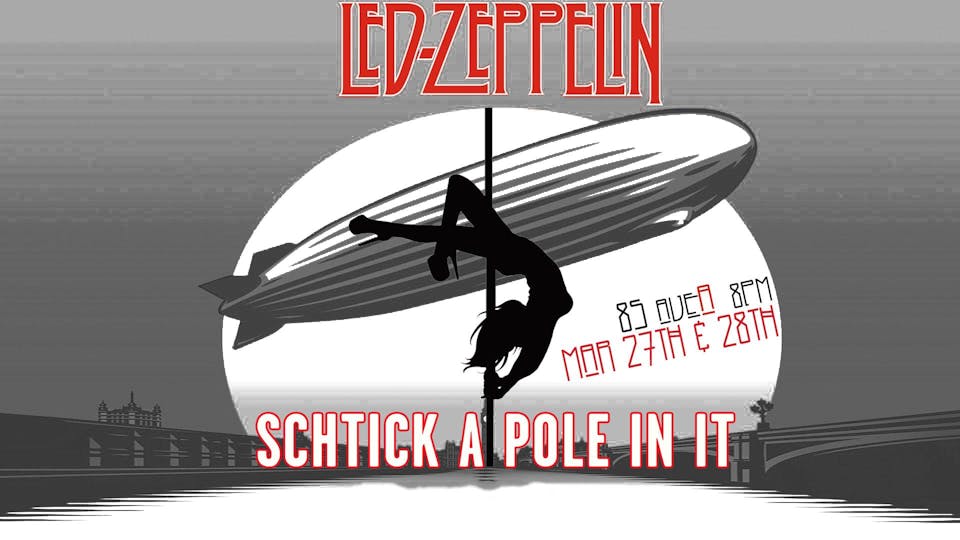 [CANCELLED] Schtick A Pole In It: Led Zeppelin Edition(SAT)
Schtick A Pole In It: Comedy and Pole Dancing at DROM NYC in the East Village, NYC!
From comedians Dan Goodman and JoAnna Ross comes Schtick A Pole In It, a night of comedy and pole dancing. Schtick starts with a comic and ends with a pole dancer. 5 comics and 5 dancers. Comics tell jokes. Pole dancers pole dance. They're not strippers, it's not burlesque. It's aerial dance with a side of crazy gymnastics and death defying tricks that make your jaw drop.
Every month we have a theme and this month it's Led Zeppelin. Been "Dazed and Confused"? Not to worry because "Babe, I'm Not Gonna Leave You". Don't "Ramble On" just get "When The Levee Breaks". If you don't see shows ike this why are you paying the NYC rents?
$35 Tier 1 Seating (First Row)
$25 Tier 2 Seating
$20 Standing Room
$30 Cash at Door
2 item minimum with seating. Advance ticket sales end at 5pm on the day of the show.
Subways
2nd ave stop on the F.
Walkable from the 6 (Astor Place) and
R (8th St - NYU) train stations
Saturday Night Cast
Comics
Dan Goodman (Skinja, Fusion Network)
JoAnna Ross (creator of Schtick)
Usama Siddiquee (JFL's)
Special Guests TBA
Dancers
Danielle Amico (Co- founder of Aerial EDGJ)
Sabine Dworak-De Vries (World Champion Pole Sports '17 & '18)
Sofa Gavshina (USPDF)
Deb V (Hudson Valley Pole)
Patty Yndigoyen (USPDF Pro, Runner up USPDF 2017)
Lineup Subject to change
Buy tickets for Friday, March 27th- https://www.eventbrite.com/e/schtick-a-pole-in-it-led-zeppelin-editionfri-tickets-84996465717