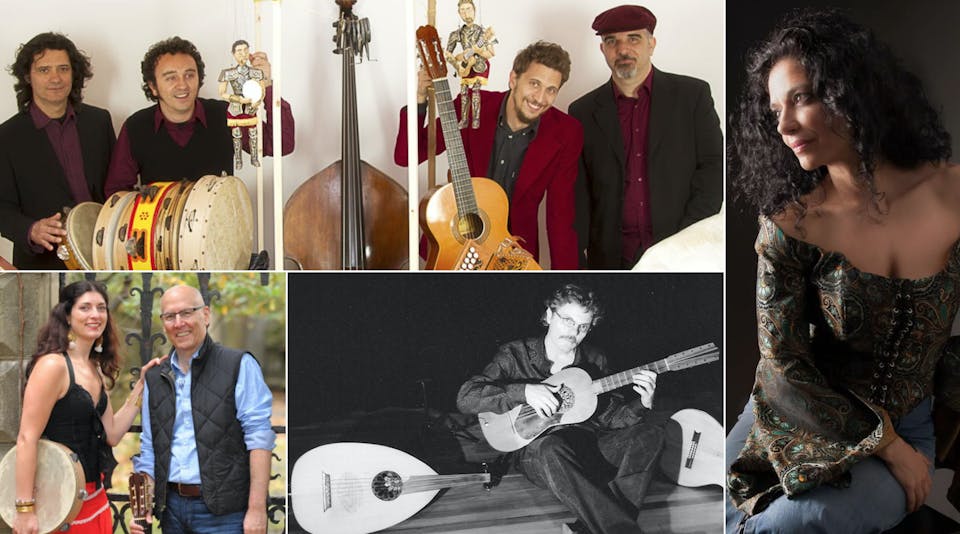 Sicilian Music Festival
I Beddi, Villa Palagonia, John T. La Barbera, Michela Musolino and Rosa Tatuata
I Beddi, Villa Palagonia, John T. La Barbera, & Michela Musolino and Rosa Tatuata perform LIVE at Drom in the East Village, NYC!
The Sicilian Music Festival New York will host I Beddi folk group from Sicily as well as feature performers Villa Palagonia, John T. La Barbera, and Michela Musolino and Rosa Tatuata. Wear your dancing shoes for an evening of fiery rhythms inspired by Sicily and southern Italy. I Beddi hails from the eastern slopes of Sicily's pulsing volcano, Mount Etna. They bring with them tales of the Sicilian people punctuated by the timbres of mandolin, accordion, zampogna, flutes, jaws harp, and frame drums.
Local artists Michela Musolino and Rosa Tatuata, John T. La Barbera, and Villa Palagonia tap into their southern Italian and American roots, building a bridge between the Old World and the New. Join us for this extraordinary concert featuring our guests from Sicily alongside the virtuosic guitar playing of John T. La Barbera, the infectious beats from Michela Musolino and Rosa Tatuata, and the memorable characters illustrated in the stories woven by Villa Palagonia.
6:30pm Doors, 7pm Show
$15 Advance, $20 At Door
$55 Dinner & Show Special - Includes: Appetizer, Salad or Main Course, a Glass of Wine or Beer, and (1) Show Ticket. Seating is first come first served. Promotion only available through online ticket sales.
Tickets for any DROM show are non-refundable; they cannot be re-issued or re-used unless the show is canceled. This is our policy with the ticketing provider whom we partner with. Please do not call us for a refund or date exchange for any ticket.
#DromIsHome From jazz and rock to electronic, soul & funk to hip-hop and international music DROM prides itself on presenting fresh new sounds and introducing new talent to the always invigorating NY live music nightlife. "New York's premiere venue for world music" (Wall Street Journal) is located at 85 Avenue A between 5th St. and 6th St. in the heart of East Village and has a wide and eclectic selection of music programming throughout the week. Drom also features a bar, kitchen and lounge area in addition to the main space making it easy to scale the room depending on your occasion. From seated shows to late night DJ events, there is a little something for everyone at Drom.
DROM | 85 Avenue A, New York, NY 10009 | 212- 777-1157
JOIN FRIENDS OF DROM for 10% off shows, food, beverages and more!