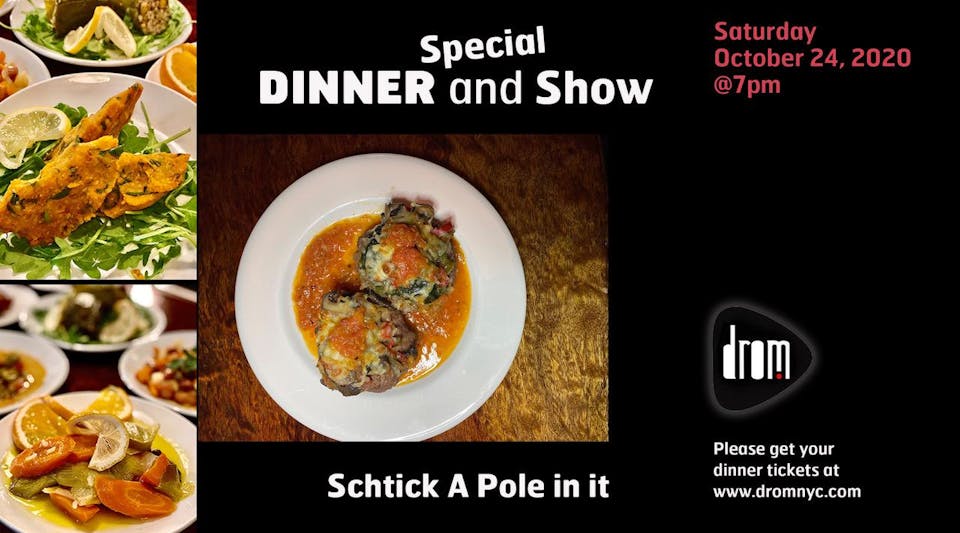 Schtick A Pole In It
$75(tip not included) Cold and hot Mezze, one of each, and a Main Course w/ glass of Beer or Wine
Please e-mail us at [email protected] for more info:
Our Seating is limited, with 25% of our capacity required by law: 40 People max
"From comedians Dan Goodman and JoAnna Ross comes Schtick A Pole In It, a night of comedy and pole dancing. Schtick starts with a comic and ends with a pole dancer. 5 comics and 5 dancers. Comics tell jokes. Pole dancers pole dance. They're not strippers, its not burlesque. It's an aerial dance with a side of crazy gymnastics and death-defying tricks that make your jaw drop."
"Oops we did it again", and this month is no different, in honor of Halloween we'll be doing an all Britney show where each dancer dresses as an iconic Britney look. When the world outside is "Toxic", you'd be "Crazy" to miss this show, so come out and hit us up "Baby, One More Time."