St. Patrick's Day Show with U2 Tribute: The Unforgettable Fire​
$25.00 - $49.99
On CEG Presents
St. Patrick's Day Show with U2 Tribute: The Unforgettable Fire LIVE at Drom in the East Village, NYC!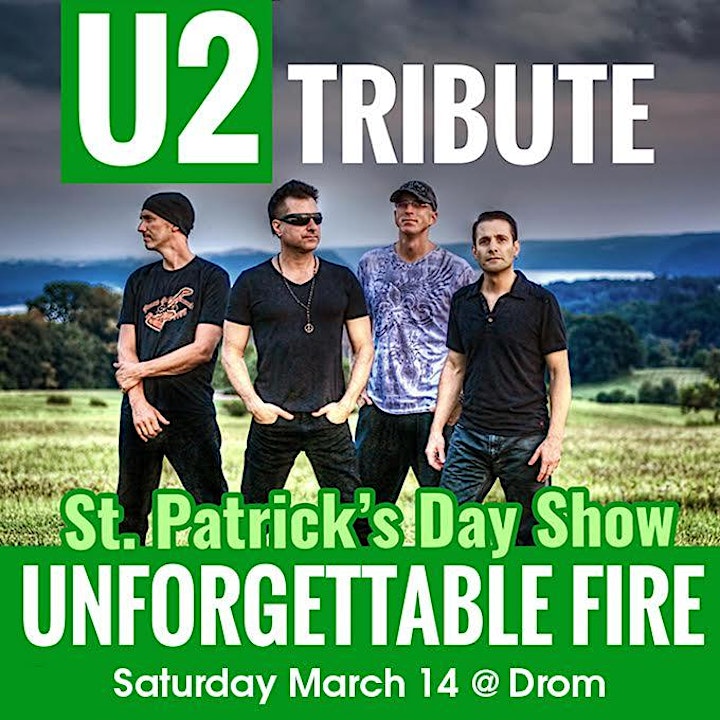 Sat March 14
CEG Presents
St. Patrick's Day Show with U2 Tribute: The Unforgettable Fire​
7pm Doors
8:30pm Show
$25 General Admission
$49.99 Premium Reserved Seating
Unforgettable Fire, or "UF", was born on New Years Day in 1995 as one of the very first U2 tribute bands to ever perform in America. After over seventeen years of playing in some of the most prestigious venues on the East Coast, UF has formed a reputation among many to be one of the closest experiences to being at an actual live U2 show. The members of UF are also very dedicated fans of U2, and will not settle for anything less than complete authenticity. In addition to performing a very impressive array of U2 material from pre-Boy to the most recent No Line On The Horizon and beyond, the band does everything in their power (from wardrobe to lighting) to recreate the live U2 concert setting for their audiences.
#DromIsHome From jazz and rock to electronic, soul & funk to hip-hop and international music DROM prides itself on presenting fresh new sounds and introducing new talent to the always invigorating NY live music nightlife. "New York's premiere venue for world music" (Wall Street Journal) is located at 85 Avenue A between 5th St. and 6th St. in the heart of East Village and has a wide and eclectic selection of music programming throughout the week. Drom also features a bar, kitchen and lounge area in addition to the main space making it easy to scale the room depending on your occasion. From seated shows to late night DJ events, there is a little something for everyone at Drom.
DROM | 85 Avenue A, New York, NY 10009 | 212- 777-1157
JOIN FRIENDS OF DROM for 10% off shows, food, beverages and more!