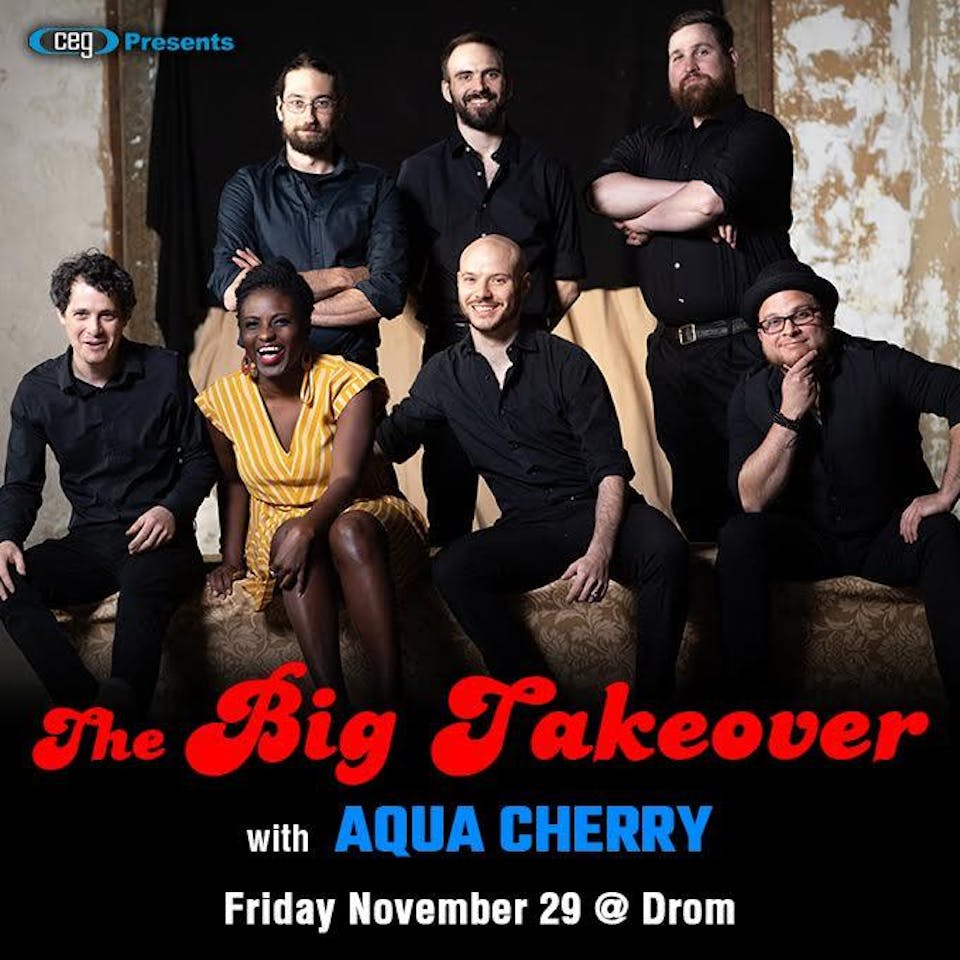 Aqua Cherry
The Big Takeover
SkyDaddy
$10.00 - $25.00
Sales Ended
On CEG Presents
CEG PRESENTS: The Big Takeover with Aqua Cherry and SkyDaddy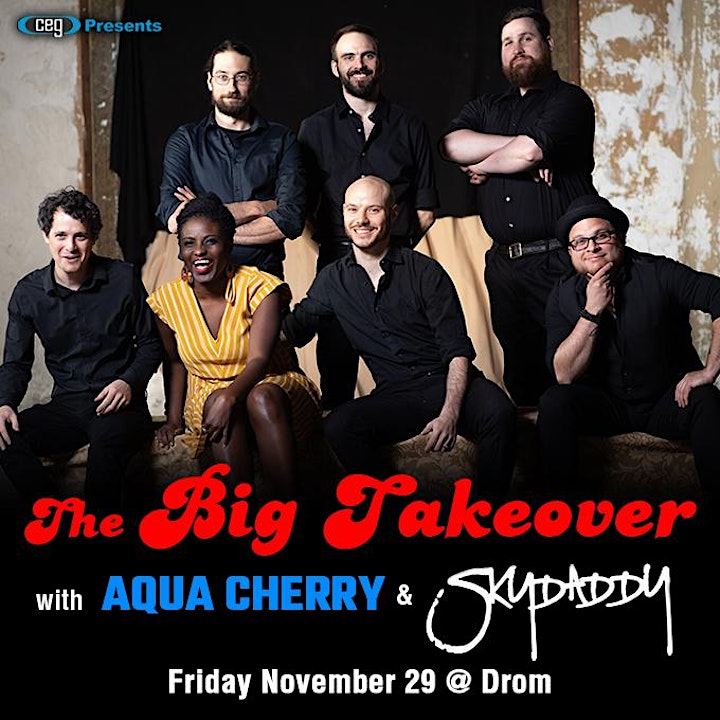 CEG Presents
The Big Takeover with Aqua Cherry and SkyDaddy
7pm Doors
7:30pm Show
$10adv $15dos GA
$25 VIP Seat
The Big Takeover is a New York based high energy sextet with a refreshingly upbeat, party-making approach to interpreting the Jamaican tradition of rocksteady, ska, and reggae music. Whether live or recorded, they never fail to deliver, using an energetic fusion of their own innovative originals and crowd favorites to keep audiences jamming from the first note to the last.
Aqua Cherry is a Reggae Rock Pop band from NY. Their music provides sweet, uplifting, booty-shakin' reggae grooves infused with a rebellious rock edge.
Over the years, in the studio and at countless gigs, Aqua Cherry has laid out a color palette of songs with which to create an immersive live experience. Each show is an opportunity to invite the audience into the band, to be a part of a special moment together. Dance and sway and enjoy being close during "Twilight," look within for the courage to fight the oppressive concept of fate during "Helix," marvel at the wonders of our unique inner worlds during "Sum of Love," and remember all those who influence us with the reggae ballad "Forever."
When Aqua Cherry come together, they are bigger than themselves. They trust in one another, and find the inspiration to push the music to new heights. The listeners and musicians tune to one another like instruments, and turn songs into a state of being. Then there are no labels for the music, no definitions for ourselves, and no limits to what we can experience and feel.
SkyDaddy is a jazz-funk-rock fusion band from the great Hudson Valley region of New York State. Comprised of Tom Clancey (Dead Meat), Dave Heinz (Alpha Male Gorillas), Pat Agresta (Eyes on the Elbows) and Joe North (Sonic SkyPilots), the band blends catchy hooks and story-driven lyrics with improvisational space funk jams and mashups. SkyDaddy's two EPs, SkyDaddy (2015) and Wide Eyes (2017) are available on all major digital channels. Follow @skydaddymusic Instagram, Twitter, YouTube and other social platforms.