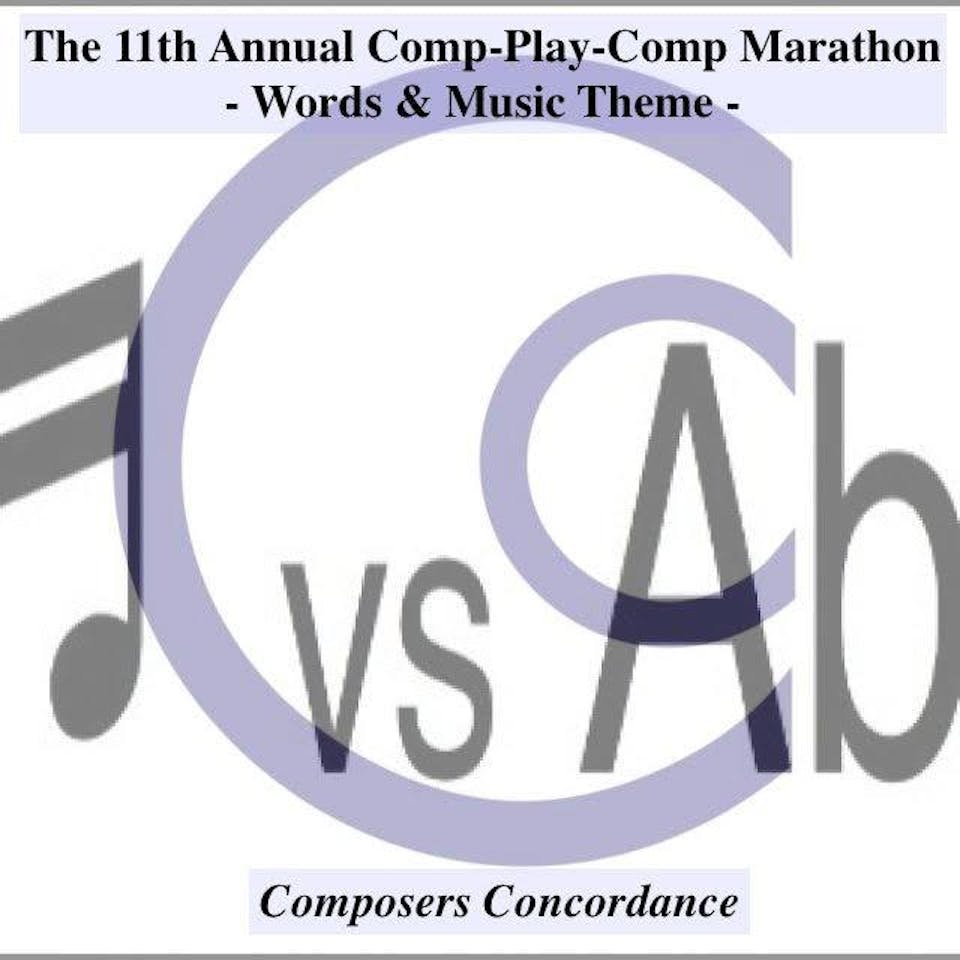 Composers Concordance presents
The 11th Annual Comp-Play-Comp Marathon
$15.00
Tickets At The Door
On Composers Concordance Eventbrite
Composers Concordance presents The 11th Annual Comp-Play-Comp Marathon - Words & Music Theme LIVE at Drom in the East Village, NYC!
Composers Concordance presents
The 11th Annual Comp-Play-Comp Marathon
- Words & Music Theme -
As part of the 9th Annual CompCord Festival
Comp / Lit
Composer/performers:
Bruce Arnold, Angela Babin, Greg Baker, Tyrone Birkett, Tom Blatt, Seth Boustead, Dennis Brandner, Geoff Burleson, Dan Cooper, Peter Fabrizio, Jane Getter, Scott Hoefling, Adam Holzman, Brad Hubbard, Debra Kaye, Matthew Kowalski, Peri Mauer, Eugene McBride, Tamar Museal, Chris Opperman, Frank J. Oteri, Daniel Palkowski, Milica Paranosic, Gene Pritsker, Dina Pruzhansky, Raul Quines, Charlie Rauh, Bill Rea, David See, Tania Stavreva, David Taylor, others TBA
For the 11th consecutive year, we invite dozens of composer-performers to answer a question - 'What kind of music do you compose if you know you're to be one of the performers?' This time around, we add a theme into the fray, as composers are asked to write 4-minute works on the theme of 'Words & Music.' The 3-hour marathon will showcase amazing composer-performers in a cavalcade of short pieces.
Staying in rotation for 35 years in NYC is a rare feat. In the case of a new music presenting organization, it requires not only diligence and cognizance of achievements of the past, but also an ethic of keeping one's ear to the ground for emerging stylistic and technological developments, as well as talented new composers on the scene. Composers Concordance strives to present contemporary music in innovative ways, with an emphasis on thematic programming. Directors Gene Pritsker and Dan Cooper co-curate the programs, and lead the CompCord Ensemble, Chamber Orchestra, String Orchestra, and Big Band. Associate Directors are Milica Paranosic, Peter Jarvis, Svjetlana Bukvich, and Debra Kaye. Composers Concordance has also created a Naxos-distributed record label: Composers Concordance Records, co-directed by Peter Jarvis. Composers Concordance's overriding vision is to promote contemporary music, composers, and new works as a rightful and respected part of society. Good music, performed and recorded well, pushing the boundaries of sound and composition.
5:30pm Doors, 6pm Show
$15 Advance, $20 At Door
Tickets for any DROM show are non-refundable; they cannot be re-issued or re-used unless the show is canceled. This is our policy with the ticketing provider whom we partner with. Please do not call us for a refund or date exchange for any ticket.
#DromIsHome From jazz and rock to electronic, soul & funk to hip-hop and international music DROM prides itself on presenting fresh new sounds and introducing new talent to the always invigorating NY live music nightlife. "New York's premiere venue for world music" (Wall Street Journal) is located at 85 Avenue A between 5th St. and 6th St. in the heart of East Village and has a wide and eclectic selection of music programming throughout the week. Drom also features a bar, kitchen and lounge area in addition to the main space making it easy to scale the room depending on your occasion. From seated shows to late night DJ events, there is a little something for everyone at Drom.
DROM | 85 Avenue A, New York, NY 10009 | 212- 777-1157
JOIN FRIENDS OF DROM for 10% off shows, food, beverages and more!