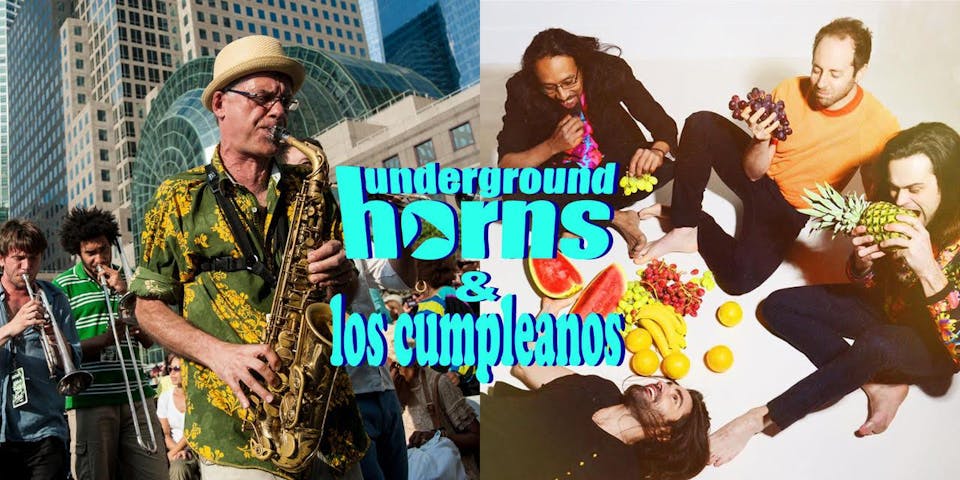 Underground Horns & Los Cumpleanos perform LIVE at Drom in the East Village, NYC!
Underground Horns & Los Cumpleanos
10pm Doors, 10:30pm Show
$10 in advance, $15 at door
Underground Horns
"we are cooking audio gumbo…our special recipe includes some funk, jazz, hip hop mixed with brass band traditions spiced up with African and other world rhythms… MUSIC FOR THE PEOPLE!"
Underground Horns is a Brooklyn based brass band playing Afro Funk Latin New Orleans grooves and beyond. AllAboutJazz called their debut record FUNK MONK "kick-ass dance music…that brushes up against psychedelia…with shots of funky brass juice."
Underground Horns performed internationally in Brazil, Egypt and Germany, stateside at the Lowdown Hudson Blues Festival, NYC Winter Jazz Festival, Dizzy's (Jazz at Lincoln Center) and various other music festivals, sharing the bill with Rebirth Brass Band, Big Sam's Funky Nation and B.B. King.
In the big city they make people dance in subway stations, parks and at their club dates at nublu, the Blue Note and Brooklyn Bowl, among others. They also have been playing as a marching band, namely at the spectacular NYC Village Halloween Parade.
Los Cumpleanos
Los Cumpleaños play tropical rhythms from Colombia washed in psychedelic soundscapes. They seamlessly combine heavy grooves and experimental sounds into a energetic, danceable, one-of-a-kind musical experience. Los Cumpleaños features virtuoso percussionist/vocalist Nestor Gomez from Barranquilla, Colombia, Lautaro Burgos from Chaco, Argentina on Drumset as well as Eric Lane on Keyboards and Alex Asher on Trombone from the USA. Members of Los Cumpleaños have played with a variety of notable artists including: Anival Velazquez, Lizandro Meza, Porfi Baloa y sus Adolocentes, Juan Piña, Alfredo Gutierrez, MAKU Soundsystem, Orquesta Dee Jay, Beyoncé, Joan as Police Woman, People's Champs & The Superpowers.